Reading academic wins British Academy Award

Release Date 07 December 2010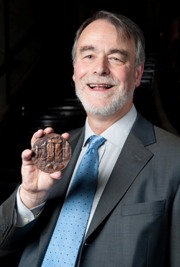 The distinguished career of one of the University of Reading's leading archaeologists has been recognised by an award from the British Academy.
Professor Richard Bradley was presented with the Grahame Clark Medal, which acknowledges outstanding achievements in the study of prehistoric archaeology.
Professor Bradley is one of the most active and prolific archaeologists working in Britain today. During his career he has combined fieldwork in many parts of Britain and Europe with interpretive and contextual discussions of prehistoric archaeology that have influenced and inspired scholars throughout Europe.
He has made major contributions to the study of the metal hoards of the Bronze Age, the rock art of later prehistoric Europe, and the ritual and burial monuments of Bronze Age Scotland.
He has studied the Bronze Age ship settings on the Baltic island of Gotland, and together with colleagues at Leicester University, is preparing a new account of the Continental background to British and Irish prehistory.
The award recognised Professor Bradley's work for its winning combination of wide reading, a deep knowledge of the material, and an ability to stimulate and inspire by interpreting the archaeological record in entirely new ways.
Professor Martin Bell, Head of Archaeology at the University, said: "This medal recognises Richard Bradley's contribution over four decades at the forefront of European prehistoric research. His ability to inspire and guide research students is legendary."
British Academy medals and prizes have been awarded annually for over 100 years. Prizewinners are selected by expert groups of British Academy Fellows. The Grahame Clark Medal was endowed in 1992 by Professor Sir Grahame Clark, a Fellow of the Academy from 1951 to his death in 1995, for distinguished achievements involving recent contributions to the study of prehistoric archaeology.
ENDS
For more information please contact Rona Cheeseman, press officer, on 0118 378 7388 or email r.cheeseman@reading.ac.uk.
Notes to editors
The Department of Archaeology has an international reputation in research and teaching and the University of Reading was awarded the Queen's Anniversary Prize 2009 in recognition of the excellence of the department. The department is unique within the study of archaeology, combining ground-breaking research, enterprise and teaching.