Rugby club students tackle new dance moves
Release Date 07 December 2010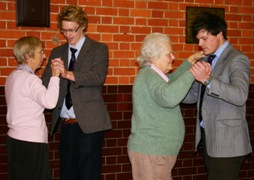 Members of the University's rugby club had a ball when they gave up their time to try out their dancing skills at a local pensioners' club.
Six students demonstrated their fancy footwork at St Luke's Parish Hall, Erleigh Road, for the monthly Come Dance With Me Friday sessions, and then served afternoon tea. The volunteers were a real hit with their dance partners and plan to help again at future events.
Harry Theakston, rugby club committee member, said: "We're keen to get club members involved in local community projects. We have had an unprecedented number of new members to the club this year and want to embed local volunteering into the club's ethos going forward to demonstrate its commitment to the local community."
Tomiko Morley, one of the club organisers, said: "Come Dance With Me invites older members of the community to enjoy a Friday afternoon, dancing, singing and socialising. The student rugby club members are a very welcome addition. They were enthusiastic dance partners, served tea and read out quiz questions. The interaction between young and old benefits both generations of our community and we are delighted that they are planning to continue to help out."
ENDS
For more information please contact Rona Cheeseman, press officer, on 0118 378 7388 or email r.cheeseman@reading.ac.uk