University honours international cricketer and distinguished professor

Release Date 14 December 2010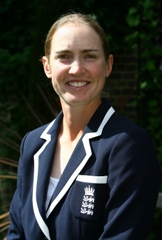 The University of Reading will award an Honorary Degree to an eminent archaeologist and geologist, and recognise the sporting achievements of one of its alumni at this year's December Graduation Ceremony.
Professor John Allen will be presented with the Honorary Degree of Doctor of Science by Professor Michael Fulford, of the Department of Archaeology, and international cricketer Beth Morgan will receive Alumnus of the Year 2010 from Dr Graham Schafer, of the Department of Psychology.
Professor Allen was at the University of Reading for more than 40 years and following his retirement in 2001, continues as a Visiting Professor in Archaeology. He initially read geology at university, specialising in sedimentology. His interest in archaeology began in the early 1980s when he began researching the sedimentology and late Pleistocene-Holocene geological history of the Severn Estuary and inner Bristol Channel. He became interested in the interaction between human and natural forces in the shaping of the landscapes and life of the estuary from Mesolithic times to the present day, from human and animal footprints to 20th century shipyards.
More recently Professor Allen's archaeological interests have broadened to include building materials and the building programmes of churches constructed from the mid-18th century to the First World War in Berkshire and north Hampshire.
Beth Morgan graduated with a first-class psychology degree from the University in 2005 and the same year went to sporting glory as a member of the English women's cricketing team, beating Australia for the first time in 42 years.
She is now an established member of the England team and Beth has taken 27 one day international (ODI) wickets and six test wickets in seven games with an economy rate of 2.18 to date. Her highest score with the bat is 77 in an ODI against New Zealand in 2007.
Beth said: 'I thoroughly enjoyed my three years at Reading and feel that I graduated with all the skills needed to succeed in the world today. Not only did I gain an excellent psychology degree which will stand me in good stead for my future career, I also grew as a person in many ways and feel I developed many crucial and transferable life skills.
"My experience at Reading gave me the confidence to chase my dream of playing international cricket and to realise it. It is a huge honour and privilege to even be considered for this prestigious award. I feel very lucky to have been given such great opportunities, both throughout my sporting career and also in gaining a superb education from the University of Reading."
The December Graduation takes place this Thursday and Friday, 16 and 17 December, in the Great Hall in London Road, Reading.
ENDS
For more information please contact Rona Cheeseman, press officer, on 0118 378 7388 or email r.cheeseman@reading.ac.uk
Notes to editors
University of Reading is rated as one of the top 200 universities in the world (QS World Rankings 2010).
The University of Reading is one of the UK's top research-intensive universities. The University is ranked in the top 20 UK higher education institutions in securing research council grants worth nearly £10 million from EPSRC, ESRC, MRC, NERC, AHRC and BBSRC. In the latest RAE (2008), over 87% of the University's research was deemed to be of international standing. Areas of particular research strength recognised include meteorology and climate change, typography and graphic design, archaeology, philosophy, food biosciences, construction management, real estate and planning, as well as law.
Standards of teaching are excellent - the University scored highly in the National Student Survey 2010. 88% of Reading students responding to the survey stated they were satisfied with the quality of their course.
The University is estimated to contribute £600 million to the local economy annually.
University of Reading is a member of the 1994 Group of 19 leading research-intensive universities. The Group was established in 1994 to promote excellence in university research and teaching. Each member undertakes diverse and high-quality research, while ensuring excellent levels of teaching and student experience. http://www.1994group.ac.uk/www.1994group.ac.uk
More information at www.reading.ac.uk