University of Reading awards £2000 Entrance Scholarship to top achieving students
Release Date 16 December 2010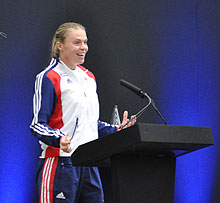 During this tough economic climate, the University of Reading is delighted to award almost £820,000 to its highest achieving students this December to help them with the cost of their studies.
In this the 5th year of the University's Entrance Scholarship scheme, 277 first-year University of Reading students will receive £2000 each, in recognition of their achievements at A Level.
These students were the top achievers from this year's intake of students in the University's five faculties of Arts and Humanities, Henley Business School, Life Sciences, Sciences and Social Sciences.
In addition, the University is also recognising the achievements of its top second and third year students in their part one and part two exams. Almost 266 second and third year students, equating to approximately 5% of students who took these exams last June, will receive an Achievement Award of £1000.00 each.
All the award winners attended a special ceremony held this week at the University's SportsPark. Rowing World Champion and Reading PhD student Anna Watkins gave a stirring speech, thanking the University for its support and highlighting the skills and mindset needed to make it to the top of your chosen profession.
The University of Reading is committed to rewarding excellence and supporting students from all backgrounds. This year, Reading increased the number of bursaries if offers to almost 3,000 students.
Professor Gordon Marshall, Vice-Chancellor of the University of Reading, said: "We are delighted to be able to reward the hard work and success of undergraduate students throughout the University. This year, we have again increased the number of student scholarships and awards highlighting our commitment to providing comprehensive support for our deserving and talented students."
Entrance scholarships were introduced in 2006 with 64 students receiving the award in the first year.
More information about studying at the University of Reading at www.reading.ac.uk
ENDS
Further information from the University of Reading press office on 0118 378 7388 / 7115
Notes to editors:
Entrance Scholarships of £2,000 are paid to all students who achieve the qualifying requirements as stipulated by the department and who specified Reading as their original FIRM Choice via the UCAS system by 1 August of the year of entry. They were open to all full-time UK/EU and non-EU undergraduates and are not means-tested. Students do not need to apply and will be notified if successful.