University hosts largest science education conference in Europe
Release Date 20 December 2010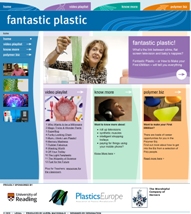 Leading figures in science will be gathering at the University of Reading in the New Year for the biggest science education conference and exhibition in Europe.
Sir David Attenborough, Lord Robert Winston and Professor Steve Jones will be among the speakers for the Association for Science Education's Annual Conference, from Wednesday 5 January to Saturday 8 January.
The ASE conference is for everyone involved in science education - whether a teacher, technician, advisor, or simply someone who is interested in science education. The conference is open to both members of ASE and non-members.
University of Reading academics will be speaking on a number of subjects in the conference's substantial Frontier Science lecture programme. Subjects covered include climate change, archaeology, visual intelligence, diet and nutrition, chemistry and early parent-child relationships.
University of Reading physics lecturer Dr Averil Macdonald will also be launching a new website at the conference - Fantastic Plastic', which describes the fascinating lifecycle of a polymer: www.fantasticplastic.org.uk
The website supports the award-winning schools' lecture programme that Dr Macdonald has given to thousands of students as they prepare for GCSE science as part of the University's Science Outreach programme to encourage young people to take science at A-Level and beyond. Throughout the UK, captivated young audiences have discovered the unlikely links between disposable nappies and flat-screen TVs, lego blocks and rubber trees, false legs and zero pollution cars, and oil slicks and cress!
The theme of this year's conference, Leading Change in Science Education, is about ASE's leading role in the changing science education climate. The conference features booked courses and a wide range of special events, talks and launches of products from leading players in the science education arena, including:
Lord Robert Winston who will speak at the ASE Members' Reception on Thursday 6 January from 5.15pm until 6.00pm.
Professor Steve Jones who will give the ASE Presidential Address at the start of his year as ASE President, on Friday 7 January at 2.00pm.
Sir David Attenborough, who will present 'The Natural Curriculum: Inspiring children to learn with nature' on Saturday 8 January at 3.00pm. He'll also be introducing his Life on Land Encyclopaedia, a unique collection of DVDs specially designed for educational purposes.
Professor Gordon Marshall, Vice Chancellor of the University of Reading, said: "This is the highlight in the science education calendar and we look forward to welcoming 3,000 teachers from across the country and abroad. We are proud to be part of the event and share our expertise in science and technology and the University's wonderful facilities."
"The Frontier Science lecture series is an ideal opportunity to learn about the innovative research going on at the University,"
Annette Smith, ASE CEO said: "We welcome our delegates to the University of Reading and hope that they find this year's conference to be both educational and fun."
For more information about the conference, please visit http://www.ase.org.uk/
ENDS
For more information about the University, the Frontier Science lecture series and Fantastic Plastic, please contact Rona Cheeseman, press officer, on 0118 378 7388 or email r.cheeseman@reading.ac.uk.
For more information about the Annual Conference, please contact Debbie Silva, Communications Officer / Web Editor, on 01707 283010 or debbiesilva@ase.org.uk.
Notes to editors
University of Reading is rated as one of the top 200 universities in the world (QS World Rankings 2010).
The University of Reading is one of the UK's top research-intensive universities. The University is ranked in the top 20 UK higher education institutions in securing research council grants worth nearly £10 million from EPSRC, ESRC, MRC, NERC, AHRC and BBSRC. In the latest RAE (2008), over 87% of the University's research was deemed to be of international standing. Areas of particular research strength recognised include meteorology and climate change, typography and graphic design, archaeology, philosophy, food biosciences, construction management, real estate and planning, as well as law.
Standards of teaching are excellent - the University scored highly in the National Student Survey 2010. 88% of Reading students responding to the survey stated they were satisfied with the quality of their course.
The University is estimated to contribute £600 million to the local economy annually.
University of Reading is a member of the 1994 Group of 19 leading research-intensive universities. The Group was established in 1994 to promote excellence in university research and teaching. Each member undertakes diverse and high-quality research, while ensuring excellent levels of teaching and student experience. http://www.1994group.ac.uk/www.1994group.ac.uk
The Association for Science Education (ASE) is the largest subject association in the UK. Members include teachers, technicians and others involved in science education. The Association plays a significant role in promoting excellence in teaching and learning of science in schools and colleges. Working closely with the science professional bodies, industry and business, ASE provides a UK-wide network bringing together individuals and organisations to share ideas and tackle challenges in science teaching, develop resources and foster high quality continuing professional development.