New business community hub prepares to open at the University of Reading

Release Date 05 November 2010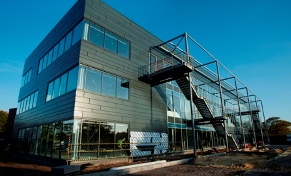 A new community of innovation and technology-based companies will take up residence in the University of Reading's Enterprise Centre when it opens in Spring 2011.
Reading Enterprise Centre is a purpose-built business facility based on the University's Whiteknights campus in Reading. Designed as high-quality flexible space, it will provide innovative and growth-orientated businesses with space to develop and grow with direct access to the University's research and enterprise expertise and talent pool of staff, students and graduates.
The new facility forms part of the University's work with business and builds on the University's excellent track record in developing knowledge transfer. Through existing facilities in the form of the successful Science and Technology Centre on the Whiteknights campus and the new Enterprise hub, the University of Reading will be home to around 50 innovative or technology-based businesses.
The University also has planning permission for phase one of its ambitious plans for a Science and Innovation Park in the area, which will provide space for successful incubation businesses to expand.
David Gillham, Director of Research and Enterprise Services at the University of Reading, said: "The University boasts real expertise in knowledge transfer and we work hard with business to provide flexible facilities, develop talented people for business needs and create access to the results of our research. Reading Enterprise Centre will significantly grow the University's opportunity to develop a cluster of businesses located at the University and will be the bridge for small start-up businesses while they grow, before, ultimately, moving on to larger premises in the proposed Science and Innovation Park."
The new facility will offer 55,000 sq. ft. of high quality space. Flexibility in the space means the Centre can accommodate a range of company sizes. The building is being part fitted out to enable early occupation of smaller suites from 100 - 1,000 sq ft (9.3 - 93 sq m) and larger bespoke floor plates are available from 1,000 - 10,000 sq ft (93 - 930 sq m).
Amenities in the new Centre include full reception services; telephone system with dedicated number and voicemail system; broadband Internet access available in every office as standard; meeting rooms; on-site security, central atrium with meeting space, networking area and coffee shop, on-site car parking, cycle sheds and showers.
Business enquiries to David Gillham, Director of Research and Enterprise Services at the University, or Lambert Smith Hampton on 0118 959 8855.
More information at http://www.readingenterprisecentre.com
ENDS
Further media information from Alex Brannen, University of Reading, on 0118 378 8005
Notes to editors:
Case studies of new tenants of the Reading Enterprise Centre are available - Assuria Ltd and Lein Applied Diagnostics.
The University selected Kier Property as its development partner inthe venture. The building has been designed with sustainability in mind. It will be delivered with green features such as green and brown roofs to improve biodiversity, variable speed cooled chillers, solar thermal panels and sun pipes. It will achieve a minimum BREEAM rating of 'very good'.