Uni students to boost local business through social media expertise
Release Date 05 November 2010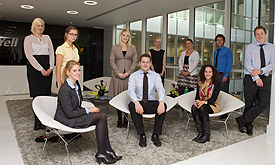 This Autumn, 10 small local businesses are benefiting from hiring a highly-skilled and motivated University of Reading student who will provide a unique social media consultancy project.
In this tough economic climate many businesses require support to sustain and grow. Students also need relevant skills, experience and exposure to entrepreneurship and small businesses to showcase their talents within industry.
The 10 students from, the University of Reading's Centre for Entrepreneurship, have been meeting with their 'host' companies since the start of term, and will continue to work with them one day of the week for the 10 weeks of the Autumn term. They will build up an understanding of the needs of the business and provide a strategy for getting the most out of social media applications such as Twitter, LinkedIn and Facebook.
Alan Donegan of Presentation skills company Enjoy Presenting based in Hook, is taking part. He said: The whole experience of working with Henley Business School at the University of Reading has been excellent from the very start. The students are energetic and full of ideas and I am looking forward to getting going. I think that the project is going to deliver real bottom line value to my business and raise my profile in the local area!
"My social media consultant Manya quizzed me about my business, asked intelligent questions and made me think about the new mediums of promotion and advertising in a different way. I really enjoyed the experience and I am inspired with new confidence and excited about working with Manya."
Manya Friis-Hansen who is studying for a BA in Management and Business Administration, said: "The Future 50 scheme allows me to gain important work experience, giving me a chance of turning theory into practice and developing essential business skills, but it also puts a lot of responsibility on my shoulders which is good experience. As a consultant for Alan Donegan of Enjoy Presenting, I hope to bring my honesty, creativity, outsider's perspective and sincere interest into the process of developing a Social Media strategy specially designed to fit Alan's objectives and benefit his customers."
Organised by the University's Centre for Entrepreneurship and supported by Yell, the directories business, and the University's Annual Fund, the Future 50 Programme is a unique initiative aiming to identify the entrepreneurs of tomorrow from Reading's student body. Coming from a range of degree programmes the students have all progressed through University modules run by the Centre which have involved running their own micro-business for a year.
Before embarking on their placements, students were treated to an intensive training academy held in Yell's distinctive new town centre location One Reading Central just weeks after Yell people started moving in. Training was delivered by local social media consultant Pete Doyle, of SocialNetIT.com. Pete's previous involvement with placement students in his own company helped to inspire the scheme. Yell will also be providing mentors to work with the students during their placements, to give the students all the support they need to make an impact.
The results of the project will be showcased at an event at the University of Reading in early February to which any local business interested in finding out more about Social Media is welcome to attend.
It is hoped The Future 50 scheme will see 50 of the University's best entrepreneurial students share their talents with local business over the next couple of years.
If you would more information about the event in January, please contact the Centre for Entrepreneurship on 0118 378 6062.
Ends
For all University of Reading media enquiries please contact James Barr, Press Officer tel. 0118 378 7115 or email j.w.barr@reading.ac.uk
Notes to Editors:
Businesses taking part in the scheme are:
Business Biscotti (Networking organisation)
Enjoy Presenting (Presentation Skills Training)
It'sezee Reading (Website design and hosting service for small businesses)
My Daddy's Going Away (Book published by a Reading Postgraduate student)
Plant Heritage (Plant Conservation Charity)
Score Store (Online sheet music retailer)
SFIA Ltd (Independent financial advisors focussing on school fees planning)
Skoolpix (Contemporary school photographs)
Snap Marketing (Marketing Agency - student will be working with clients)
Taylor HR Solutions (HR services company)
Students come from a variety of undergraduate degree programmes:
6 Management and Business Administration
2 Economics
1 English Literature
1 Art and Philosophy