University launches project to cut its carbon footprint by 35%
Release Date 09 November 2010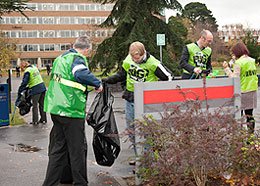 The University of Reading has launched its second Green Week which aims to make staff and students even more environmentally friendly.
As a world-renowned climate research institution the University takes its green credentials extremely seriously and is investing heavily in areas such as green technology.
Green Week marks the start of Reading's commitment to the Higher Education Carbon Management Programme which will identify ways in which the University can reduce its carbon footprint by 35% by 2015/2016. The project includes the development of a carbon management strategy.
Reading's Vice-Chancellor Professor Gordon Marshall officially launched Green Week at a lunch on Monday 8 November. Staff then embarked on a litter pick led by a junk percussion band.
Other events throughout the week include a bicycle bonanza where staff can speak to a range of cycling specialists about cycling to work and even take part in Cycling Proficiency lessons. There is also a chance to see some of the many environmental wonders around the Whiteknights Campus on a walk lead by the Grounds Maintenance team.
Last year, the University formed its Environment, Energy and Sustainability Team (EEST). The team focus on the management of energy, waste and transport and aim to coordinate environmental progress at the University.
Nigel Hodgson, University of Reading Energy Manager said: "The creation of the EEST and the success of last year's inaugural Green Week have made a significant 'green' impact but we need to do more. The University is investing in green technology in order to achieve carbon savings but individual behaviour will have a major impact on our ability to reach the target of 35%.
"We hope to add to our 200 plus 'environmental champions' which have changed the University's environment for the better and helped shrink our carbon footprint. Other successes over the last year include the fact that the University now diverts 40% of its waste away from landfill. We've also demonstrated that over 25% electricity savings can be made purely through changing our behaviour at work, for instance ensuring that computers are turned off at night and at the weekend."
A list of all the events taking place can be found here http://www.reading.ac.uk/cleanandgreen/getinvolved/greenweek/cag-greenweek2010.aspx Please phone 0118 378 4313 for more details.
Ends
For all University of Reading media enquiries please contact James Barr, Press Officer tel. 0118 378 7115 or email j.w.barr@reading.ac.uk
Ends
Notes for Editors:
The University of Reading aims to reduce its carbon footprint by 35% by 2015/2016 (against the 2008/9) baseline by:
1) behavioural change
2) technological improvements
3) rationalising the estate and removing redundant equipment
Higher Education Carbon Management Programme is run by the Carbon Trust. For more information visit http://www.carbontrust.co.uk/Pages/Default.aspx