University rowers rule the waves at World Championship
Release Date 12 November 2010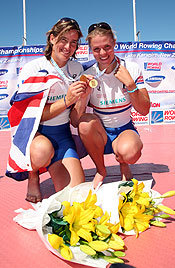 The University of Reading's record of producing world-class rowers was highlighted once again at last week's World Rowing Championship in New Zealand. Members of the University's Boat Club (RUBC) won two gold and three silver medals and produced a string of other fine performances, helping Britain to top the World Championships medal table for the first time.
Current PhD student Anna Watkins triumphed with partner Katherine Grainger in the women's double scull event, while Reading graduate and Olympic silver medallist Debbie Flood won gold in the women's quadruple scull event.
Other superb results from RUBC members include a silver medal in the men's eight for Dan Ritchie as well as an impressive silver in the women's pair for Helen Glover in her first World Championships. Rhiannon Jones, former RUBC president, coxed the adaptive (Paralympics class) four to a silver medal.
Reading graduate Tash Page was a member of the women's eight that finished fourth, and alumni Richard Egington and Alex Gregory formed part of the coxless four crew, who also finished just outside the medals in fourth place. Sam Townsend, Charles Cousins and Bill Lucas were fifth in the men's quadruple scull, one of the toughest events of the regatta.
By having state-of-the-art facilities and unwavering support from the University and the Friends of the University, RUBC has a proud history of developing top-class rowers.
Gold medal winner Anna Watkins said: "These kind of results take years to achieve. Thanks to the help I've received from RUBC I have been able to combine studying and rowing at this level for three years now. The Club is a big attraction for talented school leavers and this shows in the numbers of top quality athletes at the club, which is great fun to be involved with."
Next up for RUBC is the 4's Head of the River in London on Sunday 14 November while the Olympic Games are not too far away. RUBC Director of Rowing Will Rand believes the Club will have a large role to play in London 2012.
He said: "The Club is proud of all its members and graduates who were rowing in New Zealand. It's meant a few late nights but it's been absolutely fantastic to see RUBC rowers perform so well in GB colours. With hard work and strong backing from the University, the Club continues to achieve amazing results which attracts rowers with immense talent. We are really excited at the prospect of having a strong contingent of RUBC rowers at the London Olympics."
For more information about RUBC, contact Will Rand, the Director of Rowing at the University of Reading on 07989 972 594 or email w.rand@reading.ac.uk
Ends
For all University of Reading media enquiries please contact James Barr, Press Officer tel. 0118 378 7115 or email j.w.barr@reading.ac.uk