Chinese PE teachers enjoy exercise in teacher training at University
Release Date 16 November 2010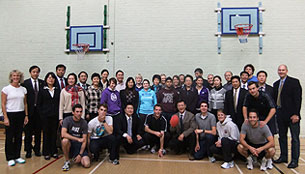 Twenty leading Physical Education teachers from China learnt new skills and methods during a visit to the University of Reading recently.
The University's Institute of Education (IoE) was one of only two higher education institutions chosen to represent good practice in initial teacher training for physical education.
The delegates, from the Capital Institute of Physical Education in China, spent the day with Tony Macfadyen, (PGCE >P Course Leader for Physical Education) and other Institute of Education Physical Education staff.
They received two presentations during the day and observed a practical teaching session. Time was also given over to allow staff from both Institutions to ask questions and exchange ideas.
Tony Macfadyen said: "It has been a great day. Staff from Reading and the Capital Institute of Physical Education have really enjoyed hearing about each other's ways of working and exchanging ideas on how to solve common issues. It has been a privilege to host an enthusiastic and knowledgeable group who want to improve their practice."
Professor Li Jingcheng, Group Leader of the Chinese delegation praised the work of the IoE Physical Education team.
He said: "Thank you very much for a really informative day which we have all really valued. It is clear the team really know what they are doing and we have a lot of things to take back with us."
It is hoped that the IoE will further partnerships with both UK China Training Ltd and the Capital Institute of Physical Education, who have invited Tony Macfadyen to visit them in China.
The University of Reading is currently undertaking a major refurbishment of its London Road campus, the original home of the University in the heart of Reading.
The £30 million investment in the University's academic infrastructure will create a new London Road home for the University's Institute of Education, which trains nearly 1000 teachers every year. The Institute will move to London Road in Summer 2011.
Ends
For all University of Reading media enquiries please contact James Barr, Press Officer tel. 0118 378 7115 or email j.w.barr@reading.ac.uk