Uni students show local pupils the value of studying science
Release Date 17 November 2010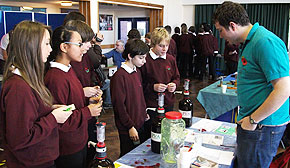 Over 300 students from Costello Technology College in Basingstoke enjoyed experimenting with the 'science of slime' in a recent event organised by the University of Reading.
Undergraduates from the University's Department of Chemistry visited the College to demonstrate the science behind polymers. Costello students also got to make some 'polymer slime' to take home with them!
The all-day event, organised by the University's Student Recruitment and Outreach Office, was aimed at encouraging young people to study science, technology, engineering and maths by highlighting the ways in which these subjects are used in everyday life.
Lyn Parry, Careers & Enterprise Co-ordinator at Costello Technology College said: "Students enjoyed the day immensely. We have had excellent feedback from everyone and the activities you provided engaged the students extremely well. We hope the day has given them an insight into working in technological and scientific environments."
The day was also attended by a number of other employers, colleges and higher education institutions.