Uni students bring town centre to life with new 'circus' exhibition
Release Date 26 November 2010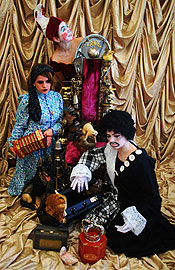 'The Walk' in Reading Town Centre will come alive next week thanks to Fine Art students from the University of Reading. Current students and one recently-graduated artist, will be collaborating in a performative exhibition that will occupy empty shop units in the Walk on the evening of Thursday 2 December.
'The Show' by the Show Collective will bring together performance, installation, video, sound and smell to playfully investigate the disintegration of once-successful entertainers and washed-up circus performers. Visitors will be given the chance to explore the live space and see the characters, and the relics of their past, close-up.
Fine Art student Katherine Anderton said: "We are delighted to have the opportunity to showcase our work to the local community and bring some sparkle to a currently lifeless part of the town centre. Visitors will be captivated by the depressive nostalgia of characters such as the Bearded Showgirl and folk-singing Fortune Teller that are trapped in a time that is hard-to-grasp, and witness how their stories are disjointed yet inter-connected."
'The Walk' is situated Yield Hall Place, Reading (RG1 2HG) with the Exhibition taking place between 5pm-8pm on Thursday 2 December. The Show will become a static exhibition during the week following the 2nd of December.
For more information contact Katherine Anderton, email lvu07kha@reading.ac.uk
Ends
For all University of Reading media enquiries please contact James Barr, Press Officer tel. 0118 378 7115 or email j.w.barr@reading.ac.uk