Reading Alumni hear how London 2012 will be the 'Green Games'
Release Date 29 November 2010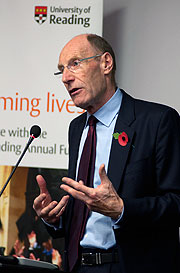 Over 60 University of Reading graduates gathered in London recently to hear from John Armitt CBE, Chairman of the Olympic Delivery Authority (ODA).
John, also a University of Reading honorary graduate, explored the £8.6 billion investment in the civil infrastructure, housing and stadia for the 2012 Olympic and Paralympic Games.
The network event, sponsored by Gardiner & Theobald, was for alumni from the University's School of Construction Management and Engineering.
John Armitt described the opportunities and challenges that the ODA faced, ranging from inheriting a heavily contaminated site, to meeting a 20% renewable energy provision for new infrastructure and minimising transport impacts.
John Armitt said: "The project has provided an opportunity for all sectors to question and review techniques which not only meet the short term objectives of a 'Green Games', but can contribute to the construction sector's challenge of reducing CO2 impact by 80% by 2050."
The talk was followed by a networking drinks reception for alumni and staff.
Ends
Further press information from James Barr, University of Reading press office, 0118 378 7115
Notes to editors:
The School of Construction Management and Engineering at the University of Reading is a world leader in teaching and research about the management, design and economics of engineered technologies, primarily in the construction field.
Its global reputation for innovation, focused on real-world problems facing the management of the built environment, attracts academics, students and industry professionals of the highest calibre. It has strong links to industry, professional institutions and governments around the world, and attained a top international rating of 5 in the most recent Research Assessment Exercise.