School pupils focus on microscope centre
Release Date 20 October 2010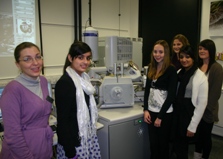 Biology students were able to see the world differently this week when they visited the Centre for Advanced Microscopy (CfAM) at the University of Reading.
The 16-year-olds from Waingels College in Woodley were invited to a workshop to support their AS studies in microscope work. They were able to see magnified images of objects 1,000 times smaller than the width of a human hair. These were taken on a scanning electron microscope which works by repeatedly firing thousands of electrons over the surface of a sample, and the signal scattered by the surface structure is detected and organised to provide the image.
Alison Barringer, Associate Principal of Applied Sciences at Waingels, said: "It's great to be able to show the students a real-life context for their studies. We hope that visits to the University of Reading will encourage them to think about higher education and going on to university too, which is more important than ever."
Professor Geoff Mitchell, Director of CfAM, said: "We are always pleased to show the research going on across the University. We can show school pupils what scientists really do and the importance of their work."
Picture caption: Dr Laura Felisari, from CfAM, left, explains how the microscope works to Waingels pupils Urfa Hussain, Lisa Grier, Farrah Khaliq, Heather Mithen and Ella Connolly.
ENDS
For more information please contact Rona Cheeseman, press officer, on 0118 378 7388 or email r.cheeseman@reading.ac.uk
Notes to editors
The Centre for Advanced Microscopy provides cutting edge microscopy services and solutions for the life, medical and physical sciences. A comprehensive suite of imaging techniques enable scientists to reveal details of structures at the atomic level through the nano scale regime up to the macroscopic level.