University research ensures future of apples
Release Date 21 October 2010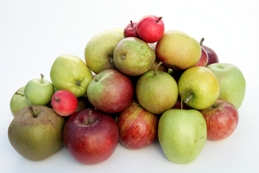 Photos of the diverse range of apples grown at Brogdale are available on Flickr
Today is Apple Day when all things associated with the fruit are celebrated and promoted. And to make sure that apples continue to be enjoyed in the future, research at the University of Reading is ensuring that varieties will survive both the affects of climate change and pests diseases.
The University is responsible for the scientific curation and maintenance of The National Fruit Collection at Brogdale, Farm, near Faversham in Kent. It includes 2,000 varieties of apple, as well as pears, plums, cherries, bush fruits and cob nuts. The collection is part of an international programme to ensure that there are food crops for the future in the context of climate and environmental change.
The project is supported by a team of Reading academics providing expertise in horticulture, cryopreservation, molecular genetics, statistical analysis and information management.
Dr Matthew Ordige is the scientific curator at Brogdale and said the aim is to maintain the collection as a genetic resource and to increase its value for use in future breeding programmes.
"A real focus of our work is to conserve the genetic material and make it available for further research," he said. "We need varieties of apples, and other fruits, that will be adapted to changes in the climate and resistant to disease. Genetic analysis allows us a better understanding of the genetic diversity within the collection and we preserve varieties of our living trees in liquid nitrogen as a back-up should anything happen to a particular variety."
Brogdale houses varieties of both historic and current importance to the UK, including varieties thought to date back to the 1500s such as the apple Autumn Pearmain
Project partners the Farm Advisory Services Team (FAST) are responsible for the maintenance of the collection and public access is organised by Brogdale Collections, which is running a series of events this weekend, 23 and 24 October, to celebrate apples.
Visitors have the opportunity to taste the apple varieties Henry VIII would have eaten, enjoy cookery demonstrations, take a stroll or ride through the orchards, as well as events aimed at the younger members of the family. For more details please visit www.brogdalecollections.co.uk
For more details of the University of Reading's research at Brogdale, please visit the National Fruit Collection website at http://www.nationalfruitcollection.org.uk
Listen to Dr Matt Ordidge, from the School of Biological Sciences,talking about the National Fruit Collections (mp3 - 2.3MB)
ENDS
For more information, please contact Rona Cheeseman, press officer, on 0118 378 7388 or email r.cheeseman@reading.ac.uk
Notes to editors
The National Fruit Collection is owned by the Department for Environment, Food and Rural Affairs (Defra) as part of the UK's National Collection of plant genetic resources. The work of the University of Reading and FAST at the collections is funded by Defra under a project entitled The long-term maintenance and scientific curation of the National Fruit Collection'.
FAST Ltd: Project partners the Farm Advisory Services Team Ltd (FAST Ltd) have responsibility for the maintenance of the collection. FAST Ltd is the largest advisory group in the UK providing advice, technical support and analytical services to commercial fruit growers. A trials area has been set up at Brogdale Farm to demonstrate developments in growing fruit crops and to test new varieties. Fast Ltd has had a close working relationship with the University for over 15 years. www.fastltd.co.uk/