University expertise aiding industry and saving the planet!
Release Date 26 October 2010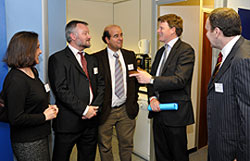 The University of Reading has been instrumental in the design of a new online sales database aiming to help businesses and public bodies save money and become carbon neutral.
@UK PLC's new service, Green Marketplace, is a database housing around three million products which have been 'green' classified, allowing the carbon footprint of those items to be automatically calculated before being purchased.The product not only allows procurers to identify the carbon footprint of these goods and potentially reduce their impact on the planet, but also allows for significant savings on the e-procurement of goods. One NHS trust is able to identify savings of over £300,000.
The product is a direct result of three linked Knowledge Transfer Projects between the University of Reading's School of Systems Engineering, Goldsmith College London and @UK PLC who are based in Aldermaston.
Drs Richard Mitchell, Slawek Nasuto, Virginie Ruiz and Victor Becerra from the University of Reading's School of Systems Engineering supervised Matt Brown and Paul Roberts who developed the ranking and classification systems. These underlie Green Insight allowing users to search for products efficiently and identify their financial and environmental costs.
Mr Ronald Duncan, Chairman @UK PLC said: "We have been working alongside the KTP team at the University of Reading since 2006, and the resultant algorithms developed are the keystone in the @UK PLC SpendInsight spend analysis system."
Such products are hugely important given the Government introduced the Carbon Reduction Commitment Energy Efficiency Scheme in April. Around 6,000 organisations are obliged to participate in a carbon emissions trading scheme. Newbury MP Richard Benyon, Minister for the Natural Environment and Fisheries, officially launched @UK PLC's new service at its Aldermaston base earlier this month.
Dr Susan Matos, Head of Knowledge Transfer Programmes at the University of Reading, said: "We have a long standing relationship with @UK and were delighted to have played a important role in the development and launch of Green Marketplace. The success of this project highlights the significant expertise that the University can provide when working with industry to provide real-world cutting-edge business."
The University of Reading's Knowledge Transfer Centre matches the expertise of the University's staff and graduates to companies, helping them develop new products and services, as well as boosting their effectiveness, competitiveness and profitability. The Centre is the leading place for developing and managing KTPs in the country with around 50 projects.
Ends
For more information please contact James Barr, press officer, on 0118 378 7115 or email j.w.barr@reading.ac.uk
@UK PLC was established in 1999 as a spin off from @Software PLC a software development company established by Ronald Duncan in 1991. The firm is a leading electronic marketplace in the UK with over 1 million users. @UK PLC provides a joined up set of eBusiness solutions: Spend Analysis, Purchase to Pay and Electronic marketplace connecting into Supplier eCommerce systems. The company also provides business startup services including eCommerce and eProcurement