University's Campus Services team rewarded for excellent customer service
Release Date 26 October 2010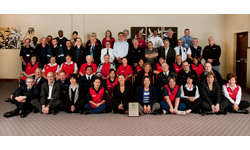 Visitors to the University of Reading are guaranteed a warm welcome thanks to the Campus Services department, who have recently been awarded Hospitality Assured status. This award recognises the team's consistently high standards of customer service and encourages excellence and improvement within the sector.
All Campus Services staff gathered for a breakfast meeting where the award was announced, to celebrate their achievement on 14 October.
Campus Services is part of the Facilities Management Directorate (FMD), and employs approximately 200 staff in cleaning, portering, postal services, receptions, Clean and Green, environment and sustainability, parking and security services.
Hospitality Assured is the standard for service and business excellence in hospitality, and is championed by the Institute of Hospitality and supported by the British Hospitality Association (BHA). The hallmark of Hospitality Assured gives customers the opportunity to choose an organisation where high quality service is guaranteed.
The assessors talked to Campus Services staff, looked at procedures that are in place, and examined the evidence of the team's excellent customer service, and gave an overall score of 67.1% in the first assessment, which is higher than the average first assessment score of 65%.
Colin Robbins, Director of FMD, said: "First impressions are vitally important when people come to visit the University: from the greeting visitors receive at the gates and reception, to the environment they see as they walk around campus, Campus Services staff help make the experience extra special. The team all work so hard to maintain a high standard of customer service in all of the diverse roles they perform, so we're extremely pleased to have been awarded Hospitality Assured status.
"FMD are working hard to achieve nationally recognised benchmarks across the Directorate, so this is another big step towards reaching our goal."
Denise Shearman, Head of Campus Services, said: "I'm very proud of the team; they really deserve to have their hard work recognised by this award. We are very unique in being given Hospitality Assured status as recipients are normally hotels, or catering departments, so well done to all the team."
ENDS
For all University of Reading media enquiries please contact Becki Rassell, Communications Assistant tel. 0118 378 8408 or email b.rassell@reading.ac.uk.