Two University Schools recognised for supporting career progression of women
Release Date 21 September 2010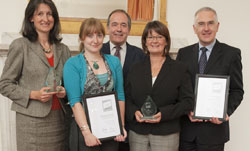 The Schools of Biological Sciences and Mathematical and Physical Sciences at the University of Reading have been awarded a Silver Award by Athena SWAN. The awards recognise and celebrate good employment practice for women working in science, engineering and technology (SET) in higher education and research.
Both Schools received their award during a special celebratory lunch at the Royal Society, London, on Thursday16 September 2010.
Athena SWAN awards are given to university departments and institutions that support female staff and students. They recognise good practice on recruiting and promoting women in universities. The awards include recognising action plans on gender equality, providing positive support for women at key career transition points and changing the culture and the gender balance in decision making.
Professor Gavin Brooks, Dean of Science and Chair of the Athena SWAN Committee at the University of Reading, commented: "The University of Reading is fully committed to the aims and ambitions of the Athena SWAN Charter. We are delighted to have been recognised by Athena SWAN through the award of Silver Awards to both Schools. It highlights their commitment to supporting the career progression of our female academic colleagues in these subject areas. The latest awards add to the University's Bronze Award, and the Silver Award given to the School of Construction Management and Engineering in 2009."
The Athena SWAN (Scientific Women's Academic Network) Charter, funded by the Equality Challenge Unit (ECU) and the UK Resource Centre for Women (UKRC) in SET, is a scheme open to universities and research institutions, giving them the opportunity to apply for awards at bronze, silver and gold levels. Twenty-seven higher education institutions and individual departments have been successful in earning Athena SWAN Charter Awards this year.
David Ruebain, chief executive of ECU, said: "I am delighted that so many higher education institutions and SET departments have achieved Athena SWAN Awards this year. It is not easy to meet the criteria, so these awards are a testament to the hard work and commitment of the sector to promoting the career progression of female academics and researchers.
"The methodology of Athena SWAN has proven to be transformative and I congratulate the winners for leading the way in encouraging women into science at a time when only 5.3% of working women are working in science, engineering and technology. Not only does this work enrich the careers of individuals, it helps institutions to harness the talents of a diverse workforce."
For more information about the Athena Swan Charter visit http://www.athenaswan.org.uktheir athena-swan/
Ends
For all University of Reading media enquiries please contact James Barr, Press Officer tel. 0118 378 7115 or email j.w.barr@reading.ac.uk
Notes for Editors:
The University of Reading is ranked as one of the UK's top research-intensive universities. The quality and diversity of the University's research and teaching is recognised internationally as one of the top 200 universities in the world.
University of Reading is a member of the 1994 Group of 19 leading research-intensive universities. The Group was established in 1994 to promote excellence in university research and teaching. Each member undertakes diverse and high-quality research, while ensuring excellent levels of teaching and student experience. www.1994group.ac.uk