University of Reading research provides hope for those with epilepsy
Release Date 11 April 2011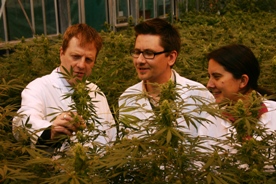 Claire Williams on epilepsy research
Download the Claire Williams on epilepsy research audio file (right-click to save)
Gary Stephens on epilepsy research
Download the Gary Stephens on epilepsy research audio file (right-click to save)
Ben Whalley on epilepsy research
Download the Ben Whalley on epilepsy research audio file (right-click to save)
Photos of the research team and growing facility are available on Flickr
Groundbreaking research from the University of Reading could reduce the number and severity of seizures for epileptics.
Successful results from recent studies have shown that three different non-psychoactive cannabis extracts can significantly reduce seizures. During the next few months, Reading researchers will be completing pre-clinical work which could enable the start of human trials.
Epilepsy affects around 1% of the global population and approximately 30% of people with epilepsy have seizures which are not controlled by conventional anticonvulsant drugs. Moreover, these drugs are associated with significant motor and cognitive side-effects that adversely affect the quality of life of individuals dependent upon their daily use.
A research group at the University of Reading, led by Dr Ben Whalley, Dr Claire Williams and Dr Gary Stephens from the Departments of Pharmacy and Psychology, is looking at whether individual compounds derived from cannabis, known as cannabinoids, could provide a solution to some of these difficult to treat seizures.
The research has been funded by a 1million grant from GW Pharmaceuticals plc and Otsuka Pharmaceutical Co, Ltd.
The group has recently published highly promising results which demonstrate that three different non-psychoactive compounds isolated from the cannabis plant have the potential to be used for the therapeutic control of seizures in epilepsy. Cannabidiol, D9-tetrahydrocannabivarin and GWP42006 were shown to significantly reduce the number and severity of seizure episodes in rats.
Dr Whalley said: "Other leading institutions around the world are investigating the involvement of the cannabinoids that our own bodies' produce (endocannabinoids') in seizure susceptibility, while others are examining how this system changes in response to seizures.
"However, the University of Reading is leading the search for therapeutic components of phytocannabinoids - cannabinoids extracted from the C. sativa plant that limit or abolish such seizures. We hope that these findings will lead to new, better tolerated and more effective treatments for people with epilepsy, reducing the number and severity of seizure episodes."
Whilst cannabis has been used medically and recreationally for thousands of years, it was not until the 1960s that the psychoactive component of cannabis, D9-THC, was identified. Subsequently, other components were isolated and identified and a small scale human trial conducted during the early 80s suggested that at least one of these components could be of use in seizure control. However, this initial finding has not been properly followed up and expanded upon until the present time.
ENDS
For more information please contact Rona Cheeseman, press officer, on 0118 378 7388 or email r.cheeseman@reading.ac.uk
Notes to editors
The grant has a total value of 970,000 and has been awarded by GW Pharmaceuticals plc and Otsuka Pharmaceutical Co, Ltd and extends and expands on an existing 500,000 research collaboration.
The research group now has nine members working on the project full time. GW is working with Otsuka which funded 3 postdoctoral scientists to work with the research group for three years.
Key researcher profiles
Dr Ben Whalley: I have worked in the field of cannabinoid pharmacology since 2000 when I first published work demonstrating that non-THC components of cannabis can inhibit seizure-like activity in slice models. I principally use electrophysiological methods to examine drug effects upon the activity of networks of neurons in tissue slices in order to better understand how changes to individual neurons result in the whole organism effects that are seen in whole animal models. I have a clinical background in pharmacy in addition to experience with human clinical trials via my work as a member of NHS and Independent Ethics Committees.
Dr Claire Williams: I am a Senior Lecturer in Behavioural Neuroscience. Since 1996, I have been involved in a program of research investigating the importance of the cannabinoids in the regulation of behaviour. One aspect of this research has involved studying the role of the cannabinoids in the regulation of appetite, body weight and reward processing. A second aspect of this research aims to determine the potential of isolated phytocannabinoids alleviate epileptic seizures.
Dr Gary Stephens: I am a Senior Lecturer in Pharmacology with a research background in use of electrophysiology to study modulation of ion channels and G protein-coupled receptors (such as the cannabinoid CB1 receptor). I am interested in the mechanisms by which CB1 receptors work at a cellular level in the brain and their application to CNS diseases such as epilepsy and ataxia. By elucidating such mechanisms of action we can better understand therapeutic intervention.
GW Pharmaceuticals plc
GW Pharmaceuticals plc (www.gwpharm.com) was founded in 1998 and is listed on the AiM, a market of the London Stock Exchange. Operating under licence from the UK Home Office, the company researches and develops cannabinoid pharmaceutical products for patients who suffer from a range of serious ailments. GW has assembled a large scientific team with expertise in cannabinoid science as well as experience in the development of both plant based prescription pharmaceutical products and medicines containing controlled substances. GW occupies a world leading position in cannabinoids and has developed an extensive international network of the most prominent scientists in the field. GW's lead product, Sativex is approved and marketed in the UK for the treatment of spasticity in people with Multiple Sclerosis.