University welcomes new Professor for Global Food Security
Release Date 05 April 2011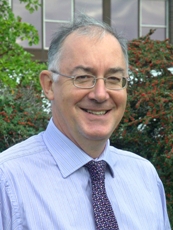 The University welcomes back a new professor to its Centre for Food Security who has a long association with Reading.
Professor Peter Gregory, previously Dean and Pro-Vice Chancellor at the University until 2005, has been appointed Professor of Global Food Security.
The appointment is a joint venture with East Malling Research (EMR) where Professor Gregory becomes its new Chief Executive from 1 May.
Until recently Peter Gregory was the Chief Executive of the Scottish Crop Research Institute (SCRI) where he built strong research collaborations between SCRI and its partners. In his new roles Peter Gregory will spend four days a week at EMR and the remaining day at the University of Reading working with Reading's new Centre for Food Security and its Director, Professor Richard Tiffin.
Peter Gregory's research interests include aspects of food systems and food security with a particular emphasis on environmental change (climate change). He spent most of his career at the University of Reading undertaking research on the interactions of plant roots with soils, and has worked extensively overseas in Australia, Syria, Nepal and Kenya on projects seeking to increase crop production. During this time Peter served as Head of the Department of Soil Science, Dean of the Faculty of Agriculture and Food and Pro-Vice Chancellor.
Peter succeeds Dr Mike Solomon, who is retiring for the second time from EMR having first retired as Science Director in 2006.
EMR is widely recognised as one of the UK's leading research centres for the horticultural industry. It was responsible for developing the first dwarf rootstocks and fruit storage technologies, which are now used throughout the world. Research strengths include genomics and plant breeding, physiology and water-use efficiency. Its scientists are at the forefront of improving the sector's ability to improve yields, environmental performance and help the horticulture industry adapt to the impacts of climate change.
Speaking about his appointment, Peter Gregory said: "I am delighted to be joining as Chief Executive at a time when fruit and food are back in the public eye. EMR's outstanding research is a key element of the UK's future food and farming excellence.
"My role at the University of Reading will allow me to project EMR's work internationally and to bring a new generation of students into direct contact with the practicalities and challenges of producing and marketing high quality horticultural foods."
Dr Oliver Doubleday, Chairman of EMR, said: "We are delighted to welcome Professor Peter Gregory. Following a distinguished academic career, Peter will be able to build on the great progress made by Mike Solomon over the past two years. I am confident Peter is just the person to guide EMR's exciting and continuing development as one of the UK's main horticulture R&D providers and extend EMR's remit."
EMR and the University of Reading already have burgeoning ties, having signed a Memorandum of Understanding last year to foster academic, scientific and cultural collaboration. The two organisations are already collaborating on aspects of the National Fruit Collections at Brogdale, which is managed by the University of Reading on behalf of Defra; greater co-operation will benefit national and international food and health security.
Reading and EMR are also working together on a number of joint postgraduate studentships. The joint appointment of Peter Gregory marks another significant step in the two institutions' mutually supportive relationship.
Professor Gordon Marshall, Vice Chancellor of the University of Reading, said: "The University is delighted to welcome back Professor Gregory, who has a long association with Reading. Professor Gregory's appointment will help the University in its research to overcome the challenges of food security. Research collaboration is the way forward in responding to society's and industry's horticultural science research needs."
Reading has long been involved in researching the impacts of climate change in agriculture and horticulture and remains a leader in this field with its investment in the Walker Institute for Climate Systems Research and the recent establishment of the multidisciplinary Centre for Food Security. In recent years the University has pioneered and championed the use of spectral filters and ushered in a new generation of crop forecasting techniques with the grower in mind.
Commenting on the legacy of Mike Solomon, Will Sibley, Chairman of East Malling Trust, said: "EMR and the Trust owe Mike an enormous debt of gratitude for not only his recent commitment as Chief Executive since May 2009, but also the nearly 40 years he has spent at the research station. His work as Chief Executive with EMR has strengthened its financial base and he has successfully forged stronger relationships with other academic and research institutions, as well as DEFRA."
ENDS
For further information on the University of Reading, please contact Rona Cheeseman, press officer, on 0118 378 7388 or email r.cheeseman@reading.ac.uk
For further information on Wast Malling Research, please contact Andrew Metcalf on 01892 513033 or email andrew@maxim-pr.co.uk