Children have fingers on the pulse after blood lecture!

Release Date 11 April 2011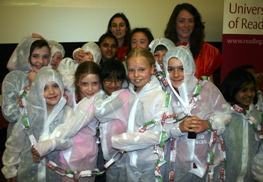 Snakes, leeches and surprises helped explain the amazing things blood can do at this year's University of Reading Children's Lecture.
Professor Jon Gibbins, from the University's School of Biological Sciences, presented 'Our blood is amazing' to 300 children, who discovered what blood is, what it does and how it works.
The interactive lecture proved a wonderful way of introducing children to what lurks inside veins and arteries. The young audience was treated to mess, fun and gore galore!
Professor Gibbins showed how animals such as snakes and leeches can help prevent serious diseases like heart attacks. Families met some of these creatures and learnt about their important role in saving lives.
Professor Gibbins said: "The talk was a lot of fun. Through using hands-on experiments and having some special 'creature' guests, the children seemed to really enjoy learning about how vital blood is for us to live and breathe. Hopefully when they next have an unfortunate accident they might look at the precious red liquid in a different light!"
Did you know?
In a year, the heart pumps enough blood around our bodies to fill an Olympic-size swimming pool.
In one drop of blood, there are 5 million red blood cells
Blood makes up about 7% of your body's weight.