International business takes centre stage
Release Date 14 April 2011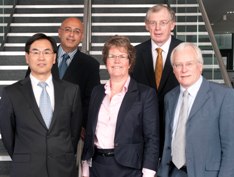 Delegates at a conference on international business at the University of Reading heard this week that more needs to be done to encourage investment for the poor and with the poor.
James Zhan, Director of the United Nations Conference on Trade and Development Division (UNCTAD) on Investment and Enterprise, delivered the keynote speech and said development must be centre stage in investment policy-making, nationally and internationally, to ensure benefits for all.
More than 100 guests attended the two-day conference, entitled 'The troubled relationship between theoretical and empirical research', hosted by the Henley Business School's John H. Dunning Centre for International Business and sponsored by Henley's Huck Centre for Management Research and the School of Economics' Centre for Institutional Performance.
Mr Zhan said: "A stronger and effective global co-ordination mechanism for international investment policies is desirable - if not indispensable - to encourage a new investment boom and to harness investment for development. A number of actions towards a multilateral investment framework for development must be taken in order to encourage investment 'for the poor and with the poor'."
He concluded his address, by underlining UNCTAD's intention to continue its tradition of close collaboration with Reading, especially the John H.Dunning Centre for International Business. Among the areas of collaboration he proposed that the Reading International Business Conference and the UNCTAD academic conference alternate, with the next one being held during UNCTAD XIII in Doha in April 2012.
Raneesh Narula, Professor of International Business Regulation at the University's Henley Business School, said: "The conference was a big success. We take great pride in our relationship with national and international industry ensuring our cutting-edge research links with the business and policy agenda both at home and abroad. It was a pleasure to welcome James Zhan as our guest and we particularly look forward to furthering our connection with UNCTAD at Doha next year."
ENDS
For more information please contact Rona Cheeseman, press officer, on 0118 378 7388 or email r.cheeseman@reading.ac.uk