University of Reading researcher brings Mongolian script up to date
Release Date 01 August 2011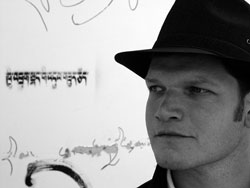 A University of Reading researcher has been invited to speak at a prestigious event in Mongolia following his work to bring the country's traditional writing up to date with new digital fonts.
Dr Jo De Baerdemaeker, of the Department of Typography & Graphic Communication at the University, was awarded an Early Career Fellowship from the Leverhulme Trust to research the history of Mongolian typefaces and to develop practical guidelines for creating contemporary digital fonts for the Mongolian script.
His work has coincided with a decree by the Mongolian government that all official documents will now be written in Uyghuro-Mongol script, a centuries' old writing system replaced in 1946, when a political decision introduced the Russian Cyrillic alphabet to write Mongolian and other minority languages in the USSR.
The research adopts the methodology developed at Reading and tested in Dr De Baerdemaeker's work on Tibetan typeforms. Lungta, his Latin-Tibetan OpenType font, is in use by the University of Chicago Press and by the Oxford University Press.
Dr De Baerdemaeker will present his research at an international Technology, Entertainment and Design (TEDx) conference in Ulaanbaatar on 20 August, at which the Dalai Lama will be present. TEDx is a programme self-organised events based on 'ideas worth spreading'.
Dr De Baerdemaeker said: "This is particularly exciting. The timing is just right for a public event, as the Mongolian government has just decreed that all official documents must now be written in the Mongolian script instead of Cyrillic."
Professor Paul Luna, Head of Department, said: "Jo's work is particularly important in restoring knowledge to the Mongolian script community about the history of the letterforms they use, and enabling language users to develop them for future communication needs. It springs from the unique resource we have at Reading in our non-Latin type collection."
ENDS
For more information please contact James Barr in the press office on 0118 378 7115
Notes to editors
For over 30 years, the University of Reading's Department of Typography & Graphic Communication has been the only one of its kind in Britain. It offers a unique approach to design through a combination of practice, theory and history.
The high standard and diversity of research in the Department are recognised by its result in the latest (2008) Research Assessment Exercise, with 80 per cent of its research being rated world-leading or internationally excellent.