Old technology gives new perspective on chaotic weather
Release Date 18 August 2011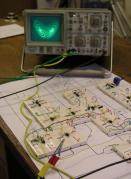 Listen to the sound of chaos
Download the sound of chaos audio file (right-click to save)
Scientists at the University of Reading have found a novel way of explaining the unpredictability of weather systems to help students better understand meteorology.
Rather than using a digital computer, Dr Maarten Ambaum and Professor Giles Harrison, of the Department of Meteorology, have revived a neglected technique, the analogue computer. This provides an actual replica of the system it simulates, rather than the virtual representation given by a digital computer.
The analogue approach means that students not only see what is happening, but can also hear and feel it too.
Dr Ambaum and Professor Harrison used their analogue computer to represent a theoretical model of the atmosphere developed in 1963 by the meteorologist Ed Lorenz. This very model was at the origin of Chaos Theory and inspired the so-called butterfly effect- Lorenz suggested that a butterfly flapping its wings in Brazil could affect the weather thousands of miles away some days later.
Professor Harrison said: "Our analogue computer provides a new educational aspect beyond classes, laboratory courses, field trips and weather balloon flights which are a central part of the meteorological education at Reading.
"A digital computer only approximates the system described. The analogue replica actually is the system, meaning it can be interrogated and explored in a variety of ways helpful to different ways of learning such as touch, sound and motion."
An analogue computer does not "read" data in the way that a digital computer does. Instead it follows a set of instructions to predict how a particular weather system for example may alter, by replicating it in real time. Analogue computers are made expressly to solve a single problem or to model a particular system.
"Chaos Theory allows us to understand complex systems, in this case weather and atmosphere," said Dr Ambaum. "Our analogue computer can simulate the chaotic aspects in the atmosphere and teach us at what point weather forecasts become inaccurate. People sometimes make fun of weather forecasts going wrong but the unpredictability of weather is in fact a fundamental property of the atmosphere. We use the Lorenz model to teach students how this works and how to deal with this; interestingly it also helps us to teach why we can still predict climate."
The research was sparked by an Art-Science collaboration, led by Professor Charlie Hooker from the University of Brighton, looking for new ways to explain scientific concepts.
The Reading analogue computer was built using accurate circuitry now available following the huge advances in chip technology which have occurred since analogue computers were the only computing method available. Because of its potential widespread applicability educationally, the analogue demonstration methods employed have been described in Elektor, an electronics magazine read widely across Europe, circulated in 50 countries and published in seven languages.
The analogue computer itself will be demonstrated at the Elektor Live! event in Eindhoven (The Netherlands) in November.
ENDS
For more information please contact Rona Cheeseman in the press office on 0118 378 7388 or email r.cheeseman@reading.ac.uk.