Local firm and University combine to help family law students
Release Date 18 August 2011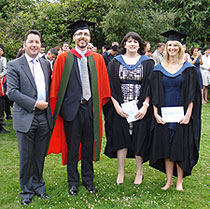 Two final year graduands from the University of Reading's School of Law scooped the Tony Roe Solicitors' Prize for the best performance in the Family Law final examination.
Now in its 3rd year, the prize is awarded to students with the best performance in Family Law.
Joint winners Helen Burnell and Laura Varrier received a monetary gift and one week's work experience with Tony Roe Solicitors, a specialist divorce and family law practice based in Theale.
Principal Tony Roe presented the prizes at the University of Reading's recent summer Graduation Ceremony.
He said: "My firm is privileged to work with the University's School of Law. I have been impressed by the hard working and able students which is a testament to the commitment of the School's lecturers. We hope to continue and to grow our involvement in the future."
Tony Roe Solicitors has supported Reading students studying family law for some time, giving sessions on the practical application of family law, in particular on financial matters between couples.
Dr Thérèse Callus, module convenor for Family Law at the University highlighted the practical relevance this longstanding collaboration has given students as well as the opportunity to increase their employability skills
Dr Callus said: "Tony's generous Prize builds upon his strong support and actively provides work experience for the winners. Helen and Laura's examination papers revealed an in-depth socio-legal understanding of how family policy is developed and applied. They both illustrated a command of a practical application of the law as well as an understanding of the conceptual development of family law and policy in the UK."