Major project to tackle malnutrition in older patients

Release Date 02 December 2011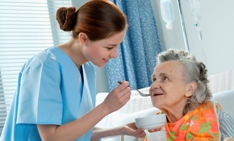 University of Reading experts have contributed to a major project designed to prevent malnutrition in older people in hospitals.
It is funded by the joint Research Councils' 'New Dynamics of Ageing' programme, led by the Economic and Social Research Council.
The initiative has led to the development of a system called hospitalfoodie, which aims to improve the nutrition of older people by providing a bedside touch screen for entering nutritional requirements, selecting food, helping nursing staff monitor how much is eaten and to alert staff if a patient is missing out on vital nutrients.
In developing the system, the team from the University of Reading, Newcastle University and the Glasgow School of Art worked with staff at all levels of the NHS, including ward staff and catering, management. They also liaised with older people, the British Association for Parenteral and Enteral Nutrition (BAPEN), Age UK, the British Geriatrics Society, the Royal College of Nursing and the Hospital Caterers' Association.
At Reading the team comprises food scientists Dr Lisa Methven, Dr Alan Bell and Dr Roussa Tsikritzi, as well as elderly care clinician Professor Margot Gosney, and specialist speech and language therapist Carol Fairfield. They have contributed to the development of the system itself as well products within the system.
Professor Gosney said: "Sick older people often lose their apetite. hospitalfoodie will identify those patients most at risk in a timely fashion and enable scarce healthcare resources to impact on reducing morbidity and mortality."
The Reading team developed a range of mini meals packed with calories and nutrients after extensive research to determine why patients didn't eat their meals. Dr Methven said: "Older patients generally have small appetites and do not want to eat large meals. In addition they often suffer from deterioration in their ability to taste food. With this in mind, we have developed foods that are small portion sizes yet high in nutritional content and taste, to consume any time of day."
Carol Fairfield added: "Swallowing problems in particular can occur more frequently in older patients. Thin fluids may go down the wrong way' into the lungs, or be very difficult to manage without coughing or spluttering. Thickened fluids are provided to help patients swallow safely and more easily. For this study we have looked at the physical properties of drinks received by patients and found the thickness of these varied considerably. hospitalfoodie should ensure that drinks and foods of the right consistency are given to patients, regularly and when needed."
hospitalfoodie automatically prompts staff to carry out nutritional screening and this information is used to calculate individual requirements, for example prompting staff to assist patients at mealtimes. Patients will be able to order through a bedside touch screen and because their food preferences and dietary restrictions are put in the system it will ensure that they are only offered appropriate food choices.
Following meal times, staff will see an image of the food on the bedside touch screen and rub away the picture to show the amount of food consumed. The amount of nutrients in the food eaten is then automatically calculated. The patient's progress against their daily targets is displayed on the bedside touch screen and at the nurses' station. If the patient has not met their targets for calories or key nutrients, the system will alert staff and suggest appropriate options to make up the shortfall.
Professor Paula Moynihan, from Newcastle University, said: "Around 40 per cent of older patients are malnourished, with those aged over 80 at highest risk and this issue has been highlighted by several charities. It's currently very difficult for staff to track how much nutrition a patient is getting and this system will help."
ENDS
For University of Reading enquiries, please contact Rona Cheeseman, research communications manager, on 0118 378 7388 or email r.cheeseman@reading.ac.uk
For all other enquiries, please contact: Rhonda Smith at BAPEN on 07887 714957 or email rhonda@minervacomms.net
Notes for editors
hospitalfoodie has been developed by Mappmal (Multidisciplinary approach to a prototype for prevention of malnutrition in older people: products, places, people and procedures). Mappmal is a three-year research project which is part of the New Dynamics of Ageing Research Programme, a cross UK Research Council initiative led by the ESRC. It involves Professor Paula Moynihan, Newcastle University, a registered dietitian and principal investigator; Professor Alastair Macdonald, Glasgow School of Art, who led on the design aspects of the project; Dr Lisa Methven, University of Reading, who led on the development of the mini meals and Professor Margot Gosney, University of Reading, Professor of Elderly Care, who advised on the clinical aspects of the project.