University Pharmacy student receives prestigious industry award
Release Date 07 December 2011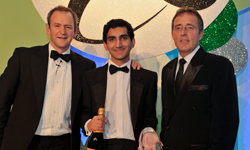 A pharmacy student from the University of Reading has received a prestigious award for his innovative ideas to help pharmacies deliver the Government healthcare agenda.
Fourth year student Ranveer Bassey won the 'Future of Pharmacy Student Award' at this year's Alliance Healthcare Pharmacy Awards. The award gives students and newly qualified pharmacists a chance to share their ideas about and demonstrate their understanding of issues in the industry.
Ranveer, who is a student blogger for Pharmaceutical Journal Online and an editorial board member for the International Pharmaceutical Students' Federation, examined how community pharmacy can help deliver the Government healthcare agenda, through providing high quality pharmaceutical care to patients.
Ranveer said: "I'm really pleased to have been given this award. It is great to see the British Pharmaceutical Students' Association and Alliance Healthcare working together to gain recognition for students.
"Wholesale pharmaceutical organisations are the critical link between manufacturer and pharmacy and ultimately the patient, and are therefore ideally placed to help deliver part of the Government's healthcare agenda to expand the role of community pharmacy to include delivering clinical services. Effective and efficient medicine supply chains are vital to ensuring that people who need medicines get them whilst providing value for the tax-payer. In the future community pharmacy is expected to provide more clinical services (e.g. medicine reviews, diabetes testing) rather than just dispensing drugs."
The awards, organised by pharmaceutical distributor and wholesaler Alliance Healthcare, celebrate excellence and innovation in the pharmaceutical industry, and aim to recognise up and coming talent.
Chris Martin, Non Executive Advisor and National Chairman of Customer Forums at Alliance Healthcare said: "Ranveer's winning entry showed that he has a clear understanding of the importance of adding value to the efficient and effective supply chain function in supporting better patient care and better patient outcomes."
Helen Osborn, Head of Reading School of Pharmacy, said: "We are delighted that Ranveer Bassey has been awarded this prestigious award, and we would like to congratulate him on his success. To win such an award so early on in his career is a truly outstanding achievement. Ranveer is a real asset to the Reading School of Pharmacy and we are proud that his skills have been recognized in this way."
Photo shows: Comedian Alexander Armstrong (who presented the awards), Ranveer Bassey, and Chris Martin, Non Executive Advisor at Alliance Healthcare
ENDS
For more information contact Becki Rassell, University of Reading Communications Officer, on 0118 378 8408 or b.rassell@reading.ac.uk.
Notes for editors
The Reading School of Pharmacy was established in 2004 with a £7 million investment from the University as a centre of excellence in pharmacy education and research that aims to produce well qualified pharmacists for the 21st century.
The School currently has an undergraduate intake of around 100 students per year on the 4-year MPharm degree programme. Around 40 postgraduate students are registered for PhD degrees. The Reading School of Pharmacy also serves as a major provider of postgraduate professional training for registered pharmacists and other healthcare workers.
Teaching and research at Reading is delivered by a team of more than 30 dynamic and enterprising academic staff (a large proportion of whom are registered pharmacists) and support staff.
Alliance Healthcare
Alliance Healthcare, the UK wholesale division of Alliance Boots, is a leading distributor and wholesaler of pharmaceutical, medical and healthcare products in the UK. Alliance Healthcare offers twice daily deliveries and provides a full complement of added value services to independent pharmacies across the UK, including innovative marketing support, commercial support services and ethical compliance and data services.