UK University tackles global challenges with Sudan
Release Date 08 December 2011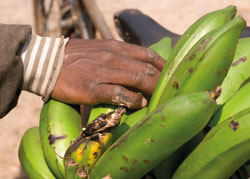 Professor Steven Mithen, Pro-Vice Chancellor for International and External Engagement, explains why University of Reading academics are collaborating with colleagues in Sudan.
Download the Professor Steven Mithen interview (right-click to save)
Dr Tabarak Ballal, lecturer in Building Technology, on how Reading's links with Sudan were forged and how creating sustainable buildings can help tackle climate change.
Download the Dr Tabarak Ballal interview (right-click to save)
Dr Sarah Cardey, lecturer in International Development, on areas where she would like to see more joint work between UK and Sudan-based academics.
Download the Dr Sarah Cardey interview (right-click to save)
Dr Ruth Evans, lecturer in Human Geography, explains her interest in researching how family ties influence people's access to resources in Sudan.
Download the Dr Ruth Evans interview (right-click to save)
Dr Rob Jackson, from the School of Biological Sciences, on how University of Reading experts could help Sudanese farmers increase food production by studying crop-eating bugs.
Download the Dr Rob Jackson interview (right-click to save)
Dr Ioannis Kokkoris, from the School of Law, on the importance of sharing Reading's expertise for the benefit of the world.
Download the Dr Ioannis Kokkoris interview (right-click to save)
The University of Reading is leading a new initiative that aims to make a real difference to the lives of people in Sudan and the surrounding region.
Africa is one of the most vulnerable continents to climate variability and climate change. However there are still uncertainties about how climate might change and the impacts on water, food, health, development and biodiversity for the 800 million people in sub-Saharan Africa - one of the regions most at risk.
Six months after the creation of the world's newest nation, academics from the University are launching a crucial collaboration with Sudanese partners which aims to tackle these environmental challenges.
Next week, 25 University of Reading experts in climate variability and change, agriculture, food security, poverty and social protection are organising a symposium in Khartoum, as part of a new partnership initiative with five Sudanese universities, NGOs working in Sudan and practitioners working in related fields.
The symposium will identify common topics, potential sources of funding for collaborative research and joint teaching programmes, in order to strengthen Sudan's capacity to face the challenges posed by food security and poverty alleviation under changing environmental conditions.
Professor Steve Mithen, the University of Reading's Pro-Vice-Chancellor for International and External Engagement, said: "Approximately 80% of staple food production in East Africa comes from rain-fed agriculture in an area where there is high variability associated with seasonal rainfall. Partnering with Sudanese academic institutions and NGOs working in the country will help build capacity in the region in these vital areas of planning for climate variability and food security. The University of Reading is a world leader in these areas with a long-standing relationship with Sudan. This makes us well placed to have a long-lasting positive impact on East Africa and some of the vital issues the world faces today."
The international research symposium is taking place in Khartoum, Sudan over 12-14 December 2011. Sessions include Addressing Urban and Rural Poverty, Policies & Strategies for Food Security and Climate Variability Challenges. For more information visit the Sudan Research Symposium website.
Ends
For more information, please contact James Barr, press officer, on 0118 378 7115 or email j.w.barr@reading.ac.uk
Notes for Editors:
The University of Reading is one of the UK's top research-intensive universities. The University is ranked in the top 20 UK higher education institutions in securing research council grants worth nearly 10 million from EPSRC, ESRC, MRC, NERC, AHRC and BBSRC. In the RAE 2008, over 87% of the university's research was deemed to be of international standing. Areas of particular research strength recognised include meteorology and climate change, typography and graphic design, archaeology, philosophy, food biosciences, construction management, real estate and planning, as well as law.
Standards of teaching are excellent - the University scored highly in the National Student Survey 2011. 89% of Reading students responding to the survey stated they were satisfied with the quality of their course.
The University is estimated to contribute 600 million to the local economy annually.
University of Reading is a member of the 1994 Group of 19 leading research-intensive universities. The Group was established in 1994 to promote excellence in university research and teaching. Each member undertakes diverse and high-quality research, while ensuring excellent levels of teaching and student experience. www.1994group.ac.uk
More information at www.reading.ac.uk
Sudanese partners
Ahfad University for Women
University of Khartoum
Sudan University of Science and Technology
Sudan Academy for Banking and Financial Sciences
University of Gezira
NGO Partners
Catholic Agency for Overseas Development (CAFOD)
Christian Action Research and Education (CARE)
Red Cross
Practical Action
United Nations Development Programme (UNDP)
The World Food Programme
The Sudanese Meteorological Authority
Action Aid