Lights, camera, action!
Release Date 22 December 2011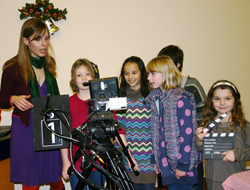 Youngsters played a starring role in at University of Reading's annual Children's Christmas Lecture when they produced their very own televised sitcom.
This year Dr Simone Knox, from the Department of Film, Theatre and Television, revealed what goes on behind the scenes, exploring the different elements of the process - script-writing, directing, lighting, costume and set design.
The lecture theatre was then turned into a TV studio and children got the chance to make their own TV show, written by students studying at the University. The audience voted on one of two endings for the programme, called The Little Christmas, and youngsters became cameramen and women, costume designers and editors.
At the end, the audience was able to watch the whole episode on the big screen.
As a special treat, all the children were given their own clapperboard and who knows one or two might become the next Steven Spielberg or Martin Scorsese!
TV facts
Did you know?
Scottish inventor John Logie Baird gave the first public demonstration of television in 1926
There are more than 1,5 billion TV sets in use in the world
The first programme aired on BBC 1 was variety show 'Here's Looking At You!' on August 26, 1936
The first programme shown on BBC2 was Play School
Recycling one glass jar saves enough energy to watch TV for 3 hours.
ENDS
For more information please call Rona Cheeseman, research communications manager, on 0118 378 7388 or email r.cheeseman@reading.ac.uk
Notes to editors
The Department of Film, Theatre and TV carries out cutting-edge research that is highly-regarded in Britain and around the world. The results of the latest Research Assessment Exercise (2008) confirm its excellence, with 90% of the Department's work evaluated as of at least international standing, and a significant proportion as world-leading.
This year the Department moved into its new home, the £11.4 million Minghella Building, on the University's Whiteknights Campus.