University honours distinguished climate scientist
Release Date 22 December 2011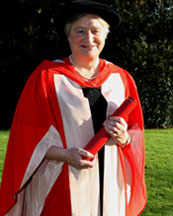 The University of Reading was proud to award an Honorary Degree to one of the world's foremost climate scientists at this year's December Graduation Ceremony.
Professor Julia Slingo, Chief Scientist at the Met Office and a leading figure in climate research for more than 30 years, was awarded a Doctor of Science.
Julia has made significant and lasting contributions to many aspects of climate science and is best known for her work on clouds, which remain a primary source of uncertainty in climate models, and the meteorology of the tropics.
Professor Slingo has held the most senior roles in climate science. She has contributed to the Stern Review on the Economics of Climate Change, and to the Fourth Assessment Report of the Intergovernmental Panel on Climate Change.
Julia has a long association with the University of Reading. She was a member of staff for nearly 20 years, from 2002 as Director of NCAS-Climate, the Climate Division of the National Centre for Atmospheric Science. In 2006 she founded the University's Walker Institute for Climate System Research.
Professor Slingo was presented with her Honorary Degree by Professor Stephen Belcher, the Joint Met Office Chair in Weather Systems at Reading, and until recently Head of the University's School of Mathematical and Physical Sciences.
He said: "The University was delighted to recognise Julia in this way. Her work has clearly shown the different controlling influences of the oceans and the maritime continents on tropical climate, and the important part this then plays in the global climate, seasonal prediction and climate change. Through this work she has shaped our understanding and our response to the dangers posed by climate change facing India, China and some of the most vulnerable countries of the world."
In 2008 Professor Slingo became the first female President of the Royal Meteorological Society and was awarded an OBE for services to climate science. Since 2009 Julia has been the Chief Scientist at the UK Met Office.
Professor Slingo said: "This is a huge personal honour from the university where I spent many happy years and achieved my most productive research. To be recognised in this way by my friends and colleagues has given me enormous pleasure and I am glad that I have been able to play a part in the growing reputation of Reading's world-leading Department of Meteorology."
The 2011 December Graduation Ceremony took place on Thursday 15 and Friday 16 December.
ENDS
For all media enquiries please contact James Barr, University of Reading Press Officer on 0118 378 7115 or by email on j.w.barr@reading.ac.uk