Accommodation deal unlocks funds for future campus investment
Release Date 22 December 2011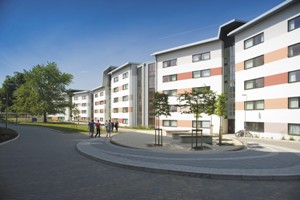 In a pioneering agreement announced today, the University of Reading has established a long-term partnership for the operation and management of its student accommodation with UPP, the UK's leading provider of campus infrastructure and residential management services.
Under the terms of the agreement, UPP will manage 4,321 student bedrooms¹ as well as the University accommodation office, in what is the largest single private sector residential investment into a UK university to date. The deal will provide approximately £200 million investment for the University, with UPP taking on responsibility for funding the University halls of residence development programme and freeing up the University's capacity to invest in research and teaching facilities across the University as a result.
UPP will take over operation of 2,610 rooms of existing accommodation on 9 January 2012, followed by a further 898 rooms currently under construction at Childs Hall in summer 2012. UPP will also develop a further 649 rooms on the site of the current Bridges Hall. As part of the agreement, University residences staff will transfer their employment to UPP under the TUPE process².
Professor Tony Downes, Acting Vice-Chancellor of the University of Reading, said: "The University of Reading has been working with UPP for over a decade³ and we are delighted that this relationship will now extend to managing the University's entire on-campus student accommodation. Our accommodation provision plays a huge part in our on-going success in providing a high quality student experience at Reading. By working with the leading professional managers of student accommodation in the UK higher education sector, we can look forward to continued success in providing a class of accommodation that attracts the brightest and best students to the University.
"Importantly for the University of Reading, at a time when the funding model for higher education is undergoing a radical change, this deal will allow us to concentrate our investment in research and teaching facilities while continuing to provide our students with high-quality accommodation."
Sean O'Shea, Chief Executive of UPP, said: "We're delighted to be working with such a forward looking institution as the University of Reading - with its strong strategy and clear vision for the future. This deals shows that the Higher Education sector is bucking the trend, and is an attractive opportunity for investors. We work in partnership with universities to provide high-quality accommodation, campus infrastructure and specialist residential management services and, we're delighted to be finding solutions that allow universities to focus resource on teaching and research, whilst still providing improved facilities for students."
UPP will be providing all the management services for the University accommodation, including reactive maintenance, while the University will retain responsibility for student welfare and pastoral matters, grounds maintenance, security and IT, as well as running catering throughout the University, including in halls and bars.
UPP will commence operation of the University's halls on 9 January 2012. UPP staff have been shadowing University residences staff since the University announced UPP as preferred bidder in March 2011 to ensure a smooth handover in January.
ENDS
Notes to editors:
¹2,610 bedrooms will transfer on 9 January 2012 under the agreement, 895 are under construction and will be managed by UPP when they open for the 2012/13 academic year and UPP already manage 816 rooms on behalf of the University of Reading at Benyon Hall and St George's Hall.
²TUPE - The Transfer of Undertakings (Protection of Employment) Regulations protects employees' terms and conditions of employment when a business or part of a business is transferred.
³UPP's partnership with the University of Reading dates back to 2000. During that period, and including the new deal, UPP will have contributed almost a quarter of a billion pounds of investment into the University.
University of Reading
The University of Reading is rated as one of the top 200 universities in the world (QS World Rankings 2011). The University is one of the UK's top research-intensive universities and is ranked in the top 20 UK higher education institutions in securing research grants worth over £10 million from UK Research Councils. In the RAE 2008, over 87% of the university's research was deemed to be of international standing. Standards of teaching and the student experience are excellent - the University scored highly in the National Student Survey 2011. 89% of Reading students responding to the survey stated they were satisfied with the quality of their course putting the University in the UK top 20 for student satisfaction levels.
The University opened nearly 900 new student bedrooms in Mackinder and Stenton Halls on the main Whiteknights campus in 2010. 898 rooms are currently under construction in Childs Hall and will open for the 2012/13 academic year.
More information at www.reading.ac.uk
UPP
University Partnerships Programme (UPP) is the trading name of UPP Group Holdings Ltd and its subsidiaries. It specialises in funding, developing and operating student accommodation and campus infrastructure schemes as well as delivering residential management services. It has invested £1.2 billion in the Higher Education sector and plans to invest a further £1 billion into UK universities.
More information at www.upp-ltd.com