The brains behind business

Release Date 03 February 2011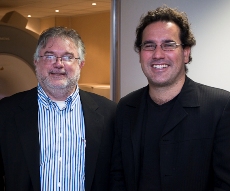 Can looking at your brain determine how successful you can be?
On Wednesday 9 February Professor Doug Saddy, of Clinical Language Sciences, and Dr Kevin Money, from the John Madejski Centre for Reputation at Henley Business School, both at the University of Reading, will present The Brains behind business. This free public lecture is part of the 2010-2011 series, which sees University of Reading experts share their knowledge in an accessible and interesting way.
In their talk Professor Saddy and Dr Money will discuss what makes a good leader and what neuroscience can reveal about how management decisions are made. Using real examples of business, they will examine how the brain handles information in order to make decisions, how this affects business leaders today and how we choose our leaders in the future.
Dr Money said: "We are interested in situations and conditions where leaders may make decisions that will benefit society as well as conditions in which leaders may be in danger of making biased or self-serving decisions. This research will help us explore these and look for solutions to these problems."
Laura Walsh, organiser of the Public Lecture Series, said: "As one of the major providers of education in the Thames Valley, we are very keen to hold these kinds of public lectures. They are given by researchers eminent in their field and in a manner that is easily understood by all. They offer a unique opportunity to learn about the cutting-edge research, teaching and people that make the University a world-class institute. The lectures are incredibly popular with all sorts of different people, and always lead to some lively debate afterwards."
All of the University Public Lectures are on Wednesdays and start at 8pm. They will be held in the Palmer Building on the University's Whiteknights campus. Lectures are free to attend and no ticket is required. Please visit the public lecture series website for more details or contact Laura Walsh on 0118 378 4313 or email l.j.walsh@reading.ac.uk