Authenticity is the foundation to business reputation
Release Date 21 February 2011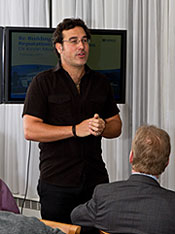 "Authenticity is the key to trust and reputation as peer to peer communication becomes increasingly important," said Dr Kevin Money from the renowned John Madejski Centre for Reputation at Henley Business School.
Dr Money was speaking to leading donors to the University of Reading at a recent Breakfast Forum held at KPMG in London.
Over 20 business leaders exchanged ideas on 'values' and how these translate into 'behaviours' within the work place and other organisations. Using Toyota as a case study Kevin Money illustrated 'how companies can drive good people to do bad things and how organisational values can become more significant than the values of the individual'
Willie Hartley Russell, Director of BlackRock Investment Management, said 'The President's Breakfast, held at KPMG's Head Office, was a dynamic and interactive forum for business professionals connected with the University of Reading to meet and exchange views on topical issues. The event was well organised, interesting and pertinent to business practitioners. It was very good to see the University connecting so effectively with alumni and business professionals. BlackRock has offered to host a similar event when they move to their new offices in Drapers Gardens later this year. "
The President's Breakfast Forum is an annual event for leading donors to the University. The event is a chance for those who contribute to making Reading one of the top 200 universities in the world to meet senior management from the University and to hear from Reading academics on their latest cutting- edge research.
Ends
Further press information from James Barr, University of Reading press office, 0118 378 7115, j.w.barr@reading.ac.uk
Notes for Editors:
Fundraising success
University has raised £25 million over the past seven years
Annual Fund has raised £2.5 million from 5,000 donors
Dr Kevin Money
Dr Kevin Money, Associate Professor at the School of Management, Henley Business School, Director of The John Madejski Centre for Reputation
http://www.henley.reading.ac.uk/web/FILES/corporate/cl-JMCR_Brochure.pdf
Fellow of the Sunningdale Institute, a think-tank and development centre which takes complex organisational and governance problems faced by those in the public sector and finds innovative approaches to tackling them