Law School welcomes potential partners from India
Release Date 28 February 2011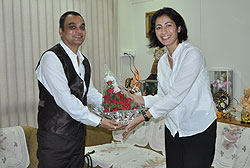 A potential partnership between the University of Reading and Bharati Vidyapeeth Deemed University (BVDU) in Pune, India could provide valuable shared teaching practice and lead to an important research collaboration.
The University of Reading's School of Law was very pleased to welcome Professor Dev Chopra, Director International Relations, BVDU's New Law College to its Whiteknights Campus recently. The visit follows a successful University of Reading trip to Pune late last year.
Following fruitful discussions a number of areas of collaboration, including research, were identified. Professor Chopra and Head of the University's School of Law Professor Chris Hilson agreed to explore initial teaching-related opportunities in Corporate and Commercial Law and Finance, Constitutional Law, International Law, and Labour Law. New Law College are also keen for their academic staff to enrol on postgraduate and professional development programmes at Reading.
Professor Christopher Hilson, Head of School of Law said: "We were delighted to welcome Professor Chopra to the University. The visit was very successful and highlighted how both institutions could build a strong and healthy collaboration. Reading's expertise will offer significant opportunities for BVDU's students and staff alike while New Law College will provide us with an established research and teaching partner in an increasingly important market.
"Reading is a vibrant and cosmopolitan place to study. Currently we have 126 students from India studying a diverse range of subjects including accounting, agriculture, food science, marketing, banking and finance, computer science, real estate and law. I'm sure this new partnership will bring enormous benefits to staff and students from Reading and Pune.
Dr Anne Thies from the School of Law will be visiting New Law College in March 2011 to discuss areas of collaboration in further detail. This will include: New Law College students enrolling on the LLM and Study Abroad Programmes and the development of short courses. It is hoped that initial activities will start by October 2011.
The University of Reading is a highly prestigious Felix scholarship destination which provides full scholarships to students from India, including living expenses, tuition fee and flights. For more information about studying at Reading please visit http://www.reading.ac.uk/Study/international/study-international.aspx
Ends
Further press information from James Barr, University of Reading Press Office, 0118 378 7115, j.w.barr@reading.ac.uk
Notes for Editors:
University of Reading
The University of Reading is rated as one of the top 200 universities in the world (QS World Rankings 2010).
The University of Reading is one of the UK's top research-intensive universities. The University is ranked in the top 20 UK higher education institutions in securing research council grants worth nearly £10 million from EPSRC, ESRC, MRC, NERC, AHRC and BBSRC. In the RAE 2008, over 87% of the university's research was deemed to be of international standing. Areas of particular research strength recognised include meteorology and climate change, typography and graphic design, archaeology, philosophy, food biosciences, construction management, real estate and planning, as well as law.
Standards of teaching are excellent - the University scored highly in the National Student Survey 2010. 88% of Reading students responding to the survey stated they were satisfied with the quality of their course.
University of Reading School of Law
The Law School is rated as among the top dozen Law Schools in the country. The University has a very active Pro Bono programme in the School of Law. Students are encouraged and supported to give up their time to train to offer volunteer mediation and legal advice. The University already works very closely with a number of organisations such as Resolve and CAB and are very proud that so many of our students commit to the lengthy training courses and provide such a professional service as volunteers once they are qualified.
Bharati Vidyapeeth Deemed University
Bharati Vidyapeeth, which is the parent body of Bharati Vidyapeeth Deemed University, is one of the largest networks of educational institutions in India. It was established by Dr. Patangrao Kadam in 1964 in Pune, with a focused objective of bringing about intellectual awakening of people and for preparing manpower capable of contributing effectively towards national development, particularly economic development. Within a short span of 14 years this University has established its reputation for academic excellence and research nationally and internationally