Reading graduate wins prestigious award for essay on the West at war
Release Date 12 January 2011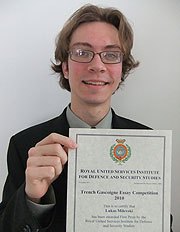 The University of Reading is delighted to announce that Lukas Milevski has won the coveted 2010 Trench Gascoigne Essay Prize.
Lukas, who graduated in December 2010 from Reading's School of Politics and International Studies with a Master's in Strategic Studies, won the prize for his thought provoking work entitled 'A Collective Failure of Grand Strategy: The West's Unintended Wars of Choice'.
The Trench Gascoigne Essay Prize is awarded annually by the Royal United Services Institute for Defence and Security Studies (RUSI) for original writing on contemporary issues of national and international defence and security. Lukas was announced as the winner on Tuesday 14 December at the Annual Chief of Defence Staff lecture, where RUSI Chairman and former Secretary of State for Defence the Rt. Hon. Lord Hutton of Furness termed his essay 'a formidable piece of work'. He was awarded a cheque of £500 by General Sir David Richards, Chief of the Defence Staff, UK Ministry of Defence.
Lukas's essay examines the West's vulnerability in recent conflicts and argues they are of a type that the West does not know how to fight, even though they ironically choose to wage such wars. It concludes with a warning against an over-militarised approach to foreign policy.
Lukas said: "I am thrilled to have won such a prestigious award. I enjoyed studying at Reading and would like to thank the excellent professors who taught me and the array of extra curricular events the School of Politics and International Studies organises. My essay was a direct consequence of the serious research and thinking done while at Reading, particularly for my dissertation, and I'm confident that I will continue to draw upon these resources in the future."
This year, RUSI received 42 essays of extremely high standard, from a variety of internationally diverse entrants ranging from serving and retired military officers, academics and students as well as the general public.
Theo Farrell, Professor of War in the Modern World, Department of War Studies, King's College London was on the judging panel. He said: "Congratulations to Lukas. His provocative essay on the failure of grand strategy in the West could not be more timely. It explores the limits of force especially when it comes to combating insurgency and building states in faraway and unfamiliar lands. His work is a most commendable winner of the 2010 RUSI Essay competition."
The Trench Gascoigne Essay Prize dates back to 1874. Previous winners include Reading Professor Colin S. Gray, former shadow Defence Minister Julian Lewis, and Sir Charles Callwell, the much respected author of 'Small Wars' on the subject of counter-insurgency.
Lukas' essay will be published in the June/July issue of RUSI Journal.
Ends
Further press information from James Barr, University of Reading press office, 0118 378 7115, j.w.barr@reading.ac.uk
Established in 1964, the University of Reading's School of Politics and International Relations enjoys a reputation as one of the top departments in the UK. Attracting world experts in its field, the central driving force of the department is to address the main political issues of our time through the study of individuals, governments, institutions and countries and their inter-relationships.
The School is at the forefront of research and debate in the many dimensions of politics and international relations. Current research interests include: the ethics of war; contemporary military strategy; democracy; integration in Europe; environmentalism in American politics; and conflict in the Middle East.
The Royal United Services Institute is an independent think tank engaged in cutting edge defence and security research. A unique institution, founded in 1831 by the Duke of Wellington, RUSI embodies nearly two centuries of forward thinking, free discussion and careful reflection on defence and security matters.
RUSI consistently brings to the fore vital policy issues to both domestic and global audiences, enhancing its growing reputation as a 'thought-leader institute', winning Prospect magazine's Think Tank of the Year Award in 2008 and Foreign-policy Think Tank of the Year in 2009. http://www.rusi.org/