Students share their views about film with BBC Radio 1
Release Date 21 January 2011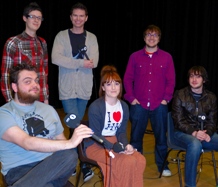 BBC Radio 1 film critic James King visited the University of Reading this week to speak to students about their favourite films.
The Department of Film, Theatre and TV hosted the event and a lively discussion followed. Students debated the merits of a wide range of films, from The Matrix and Inception to 28 Days Later and 500 Days of Summer to the Harry Potter films.
The students were delighted that James King and his production team were also able to stay for a Q&A session on careers in the creative industries.
Dr Lisa Purse, a film lecturer who co-ordinated the visit, said: "The students relished putting their views to a professional film critic like James, and also really appreciated the opportunity to hear the production team's reflections on career paths into radio and television."
Highlights from the students' debate will be broadcast between 9am and 9.30am on Sunday 23 January 2011 as part of DJ Edith Bowman's weekend show.
ENDS
For more information please contact Rona Cheeseman, press officer, on 0118 378 7388 or email r.cheeseman@reading.ac.uk
Notes to editors
The Department of Film, Theatre and TV is a dynamic and creative department which has been leading its field for over four decades. It pioneered the teaching of film studies in British Higher Education, and has an established world-leading reputation in theatre and television.
In the last RAE (2008), 90% of our research was scored as being of world-leading or internationally-excellent quality. Its strong research environment enables it to deliver one of the most exciting, innovative and unique courses on offer in the UK.
Its new £11.4 million building, to be finished in April 2011, will comprise a cinema, three large theatres, a TV studio with en-suite mixing facilities, individual and group editing suites and a scene construction workshop.
.