Eco researcher takes his work home
Release Date 24 January 2011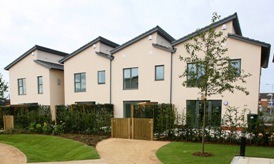 Working from home could never be a truer phrase for one University of Reading research engineer who has moved into an eco housing development to monitor its performance.
Robert Burzynski is working with Southern Electric on its new development of zero carbon homes in Chalvey, Slough.
The partnership has been set up through the University's Technologies for Sustainable Built Environments (TSBE) Centre. Its research focuses on improving energy management in Britain's new and existing housing stock and investigating the built environment's impact on local and global climate.
Robert and his family have moved in to the development of 10 homes and over the next two years Robert will monitor the energy consumption and performance of the technology used in the new houses.
This includes solar thermal panels to heat water, a ground source heat pump, an air source heat pump, a solar photovoltaic roof, biomass boiler and mini district heating system.
"I will be testing performance and asking other residents' views on how it works for them," said Robert. "We need hard data to make sure that the homes really are zero carbon - in other words that they generate as much renewable power as they use over the course of a year.
"The houses are traditional in design but have modern technology embedded. It's completely hidden. We have found them to be warm, comfortable homes where I get to live and work!"
The development has been designed to achieve the highest rating in the environmental assessment for homes- know as the Code for Sustainable Homes Level 6 and all new homes built in England from 2016 onwards must be zero carbon.
Martin Crane, Robert's industry project supervisor at Southern Electric, said: "We're delighted to be working with the University of Reading on this project. Southern Electric is firmly committed to improving energy management and we are very pleased with our first project in Slough. Robert's involvement means we will be able to ensure we have the right technology for future projects."
All research engineers at the TSBE are sponsored by the Engineering and Physical Sciences Research Council (EPSRC) and industry. The researchers spend 75% of their time with their sponsoring company and 25% at the University over four years, leading to an Engineering Doctorate (EngD) qualification. The Centre draws on expertise across a range of fields at the University, including construction management, meteorology, and systems engineering.
ENDS
For more information please contact Rona Cheeseman, press officer, on 0118 378 7388 or email r.cheeseman@reading.ac.uk
Notes to editors
The TBSE is committed to working with leading players in the UK construction and energy sectors. It will aid the development of an industrial knowledge-base capable of responding to the challenges of sustainability and climate change issues by reducing the environmental impact of construction and its carbon footprint - http://www.reading.ac.uk/tsbe
SSE supplies electricity and gas to over 10 million customers within the UK's competitive electricity and gas supply market. It is the second largest supplier of energy in the UK. It supplies energy in Berkshire through its Southern Electric brand - http://www.sse.com