New home for Film, Theatre and TV to be known as the Minghella Building
Release Date 25 January 2011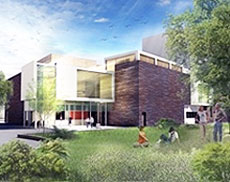 The new home for the University of Reading's Department of Film, Theatre & TV on the Whiteknights campus will be known as the Minghella Building, in honour of Anthony Minghella, the award-winning playwright, screenwriter and director, who sadly died in 2008.
Anthony Minghella was made an Honorary Graduate of the University of Reading in 2006 and was a patron of the Beckett International Foundation at the University. To mark the Centenary of Beckett's birth the same year, he directed a star-studded gala evening of readings from Beckett in Reading. Minghella is perhaps best known though for his hugely successful film directing career, which included The English Patient and The Talented Mr Ripley.
The new Minghella Building is due to complete in April 2011 with staff from the Department moving from their current home on the Bulmershe Campus during the Easter break.
The £11 million project will include:-
A state-of-the-art cinema with comfortable, raked seating, high definition digital projection and 7.1 surround sound
Resources for shooting high definition digital DVD
Post-production areas including individual state-of-the-art editing suites, training spaces and facilities for audio mixing
A sound studio to create exciting, original sound tracks for film, theatre or television.
Two fully-equipped theatre spaces, licensed for public performance, and equipped with the latest sound, lighting and projection technology
An experimental studio for exploratory work including installations, new media presentations and multimedia performance
A multi-camera TV studio and mixing gallery
Workshops to develop design ideas and create props and costumes
Flexible break-out spaces to develop ideas in small groups
An excellent resource collection of films, recorded performances and TV programmes
Professor Gordon Marshall, Vice-Chancellor of the University, said: "Anthony was a leading figure in the arts nationally and internationally and it is appropriate that the new building should bear his name. He first began visiting the University during his own doctoral research on Samuel Beckett's drama and he later became a Patron of the Beckett International Foundation, which is based here."
Gloria Minghella, Anthony's mother said: "Anthony would be so proud to know that this amazing new building is to be named after him. It goes without saying that he was incredibly passionate about the arts, and was an ardent supporter of anything that would enable and encourage young people to explore their own and others' creativity. He described himself as a "Beckett anorak" - and indeed he was. Beckett's passion for language, for honesty, humour and ultimately, his understanding of the human condition; these are the things that Anthony aspired to in his own work. And Anthony brought something else, too. His unique and wonderful self. We hope and trust that future users of this incredible building, with its marvellous facilities, will be as inspired by our beloved son, as Anthony was inspired by Beckett."
Ends
Further press information from James Barr, University of Reading press office, 0118 378 7115, j.w.barr@reading.ac.uk