University of Reading students win national farming competition
Release Date 05 July 2011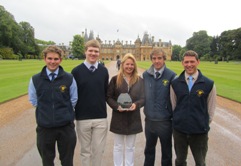 Agricultural students from the University of Reading have won a national competition after advising a 6,000-acre farming estate on how to make improvements to its business.
The students in the University's Department of Agriculture took the prestigious title of 2011 FarmPlanner of the Year.
The competition tests agricultural students' ability to think creatively and strategically in the context of the commercial reality of a modern farming business. This year's competition was at the Waddesdon Estate, home of the Rothschild family, and involved a one-day farm visit and the opportunity to interview the host.
The judges selected a shortlist of three teams for the next stage, where students must pitch their conclusions and recommendations as professional consultants to the host farmer and judges. Alastair Brooks, the Waddeston Estate Farms Manager, announced Reading as the winners with their team of Mike Gates, Antony Rudgard-Redsell, Olivia Anderson, Alistair Hughes and Will Page.
The judges were impressed by the way in which the team had listened to the family's wishes and how they wanted to farm, addressing all the issues raised with positive and innovative ideas. Their recommendations included new technology adoption in the arable enterprise, an increase in livestock numbers, and suggestions for a waste compositing site and investigation into wind and solar power.
The Head of School for Agriculture, Policy and Development, Dr Mike Gooding said "We are very proud of our five students, particularly as they are second-year students who were competing against final year students from many institutions. They worked together very well, pooling their ideas and experience and proved to the judges that they have sound commercial farming sense, while being sensitive to the environmental features important to Waddeston Estate."
The competition is run by the Institute of Agricultural Management and sponsored by Farm Plan Computer Systems. It is open to all universities and colleges that teach farm management.
In the 2012 Guardian University Guide (published in 2011), Reading's Department of Agriculture was rated number one in the country, and it has high employability rates for its students (80%).
Picture caption: From left, the winning students Will Page, Alistair Hughes, Olivia Anderson, Antony Rudgard-Redsell, Mike Gates.
ENDS
For more information please contact Rona Cheeseman in the press office on 0118 378 7388 or email r.cheeseman@reading.ac.uk