Uni Boat Club celebrates success past and present!
Release Date 08 July 2011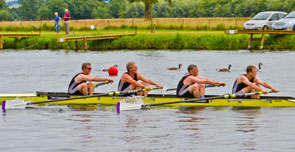 The University of Reading Boat Club's (RUBC) is celebrating a superb team performance at the recent internationally renowned Henley Royal Regatta. RUBC's men and women did the Club proud, producing some terrific results.
RUBC members past and present also gathered for a special event to celebrate the Club's achievements. It has been 25 years since RUBC's men's coxless four first won the Visitors Challenge Cup at Henley, a victory which set the tone for the Club's future success.
The highlight of the event was a 'row-past' from the winning 1986 crew. Hugh Maltby, Lance Robinson, Nick Strange and James Blunt hadn't seen each other in 23 years but showed their teamwork had not diminished, rowing perfectly past the large crowds that banked the Thames.
Nick Strange, who now works as the coach for the senior Great Britain women's eight, remembers the race 25 years ago with great fondness. "It was one of my most special races as it was the point at which I realised I could be really good at rowing, and it was great fun. The University bought us a new boat for the 1986 regatta and their support really helped us. It is great to see them still supporting the successes at RUBC."
The race of the Regatta for the University men was the Great Britain quad's victory over the world champions from Croatia. Sam Townsend, racing as University of Reading, was part of the crew that won the top quad event.
At the Henley Women's Regatta, held two weeks prior to the Royal Regatta, RUBC showed their class once again. Lottie Burgess, RUBC's John Nike Sports Scholar, was stroking the GB Under 23 quad that won. Other wins came from the RUBC Eight, who dominated the academic eight's event beating Newcastle by over four lengths in the final.
RUBC recently returned from the British Universities and Colleges Regatta winning more medals than any other institution and, as a result, five of the crews will be representing Great Britain at the European Universities Championships in Moscow in August.
The Club will also have a strong presence at the European Championships in Moscow at the beginning of September and hope to have several members competing in next year's Olympics.
RUBC Director of Rowing Will Rand said: "It's been a memorable month for the Club. As well as some magnificent performances the alumni event was very special. It was wonderful for current club members to speak to some of the people that helped shape RUBC into the fantastic and successful organisation it is today. Everyone involved with RUBC should be very proud of their Club and we look forward to more success throughout the season."
Ends
For all media enquiries please contact James Barr, University of Reading Press Officer on 0118 378 7115 or by email on j.w.barr@reading.ac.uk
For more information about RUBC, contact Will Rand, the Director of Rowing at the University of Reading on 07989 972 594 or email w.rand@reading.ac.uk
For more information about making a donation to the Boat Club's 2012 campaign, contact Becki Mckinlay, Deputy Director, Annual Giving at the University of Reading, on 0118 378 5238 or email r.j.mckinlay@reading.ac.uk