Construction sector must lead on environmental challenges
Release Date 12 July 2011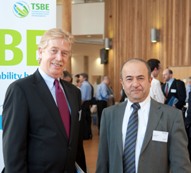 The construction industry must take the lead in tackling the challenges of climate change, providing answers to sustainable building for the generations to come.
This was stressed by the keynote speaker, Alan Crane, at a conference organised by the University of Reading's Technologies for Sustainable Built Environments (TSBE) Centre.
This second event by TSBE explained to delegates the research work that its postgraduates were engaged with to provide solutions to the problems ahead.
Mr Crane, Vice- President of the Chartered Institute of Building, which sponsored the conference, told the audience of researchers and industry representatives: "We, built environment professionals and construction managers, working in a fully integrated environment, can and will make a difference.
"Yes we should look at what other stakeholders, such as Government, are doing. Green Banks and other initiatives are and will be important but as construction managers it is time to stop looking for direction from others - or the excuses. We can and we must take action."
The TBSE is committed to working with leading players in the UK construction and energy sectors. It aids the development of an industrial knowledge-base capable of responding to the challenges of sustainability and climate change issues by reducing the environmental impact of construction and its carbon footprint.
The Centre trains research engineers in sustainable built environments and building energy management, leading to an Engineering Doctorate (EngD). Students spend 75% of their time with their sponsoring company and 25% at the University over four years.
Each student outlined their area of work during the day, ranging from how small and medium-sized companies can meet the carbon targets to changing building occupier behaviour to prevent energy loss.
The Centre's Director, Professor Hazim Awbi, said: "The conference is a great opportunity to showcase the ground-breaking our students are doing in partnership with industry. Future buildings need to be designed, constructed and operated in a different way to meet the challenges of climate change."
Professor Awbi will be retiring in September and Dr Janet Barlow will become the new Director of the TSBE from 1 October 2011. Dr Barlow currently is Reader in Urban Meteorology in the Department of Meteorology at the University.
Case studies
Learning lessons from the Olympic Games 2012
Jonathan Grossman is working with the Chartered Institute of Building (CIOB) to provide vital information to help programme managers on large-scale building projects. The London 2012 Olympic and Paralympic Games Programme has promised to deliver the most sustainable games ever. This provides a unique opportunity to capture lessons learned on delivering a programme of this size, on time and within budget, whilst ensuring the sustainable targets are met. Where feasible, these lessons can then be taken forward to all future programmes, including future Olympic Games.
Jonathan said: "This has been a very enjoyable research project. The Olympics is an ideal programme to investigate lessons learned with regards to the management of time, cost and quality especially as the programme is still live."
Saleem Akram, Director of Construction Innovation and Development at the CIOB, said: "We wanted to gain a deeper insight into what the issues have been in building the Olympic site and how they were overcome. The construction is world-class quality and our reports on this will be invaluable for programme managers."
How building facades can make a difference
Bridget Ogwezi in partnership with Buro Happold is researching how building facades can adapt to the changing external environment and the complex internal needs of the users.
Buildings account for up to 46% of energy consumed, and there must be a determined effort to reduce their energy consumption in maintaining a suitable internal environment. The façade can be key in helping reduce the energy used in achieving design criteria in terms of lighting, thermal properties, acoustics, air quality and security.
Bridget said: "I'm really enjoying the challenge of liaising with industry to ensure my research is relevant. Ultimately I hope to develop a material, little or large, that can make a difference to design."
Jonathan Sakula, Technical Director of Façade Engineering at Buro Happold, said: "The subject of facades has been an issue for years and there are many projects going on all over the world. We're trying to make our contribution and have an edge in the field."
ENDS
For more information please contact Rona Cheeseman, press officer, on 0118 378 7388 or email r.cheeseman@reading .ac.uk