Reading conference fosters collaboration between biologists
Release Date 15 July 2011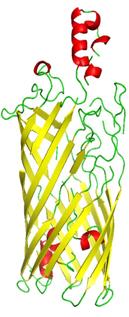 The University of Reading showcased its cutting edge facilities in the School of Biological Sciences this week when it hosted a conference aimed at fostering collaborations between academics across the south west.
This event marked the 10th anniversary for the South West Structural Biology Consortium (SWSBC) which includes research groups from the Universities of Exeter, Bath, Bristol, Cardiff, Southampton, Portsmouth, Surrey, Queen Mary, UCL and Reading.
Structural biology is a field of the sciences which is concerned with the physical structure of macromolecules, literally 'large molecules'. Macromolecules are of immense biological importance, playing a role in everything from passing on genetic inheritance to modulating immune system responses. Understanding how these molecules form can help researchers learn more about how they work.
Sponsors, who also exhibited, included Agilent, Dionex, AlphaBiotech and Rigaku, while this year's invited speakers were Dr Gwyndaf Evans (Diamond Light Source), Dr Ray Owens (Oxford Protein Production Factory at the Research Complex at Harwell), and Dr Isabel de Moraes (Membrane Protein Laboratory, Imperial College/Diamond Light Source).
Dr Kim Watson, Head of Reading's structural biology group, said: "The meeting was a huge success, the largest number of participants yet, with a mixture of invited outside lectures, oral presentations from academics, post-docs and PhD students, as well as poster sessions and sponsor exhibitions.
"SWSBC fosters collaboration between industry and academia and we were delighted to host its 10th Annual Conference at Reading, showcasing our excellent facilities and research in structural and computational biology."
ENDS
For more information please contact Rona Cheeseman in the press office on 0118 378 7388 or email r.cheeseman@reading.ac.uk
Notes for editors
The SWSBC first met in 2002, with funding from the Collaborative Computational Project Number 4 in Protein Crystallography (CCP4). CCP4 was set up in 1979 to support collaboration between researchers working on crystallographic computing software and is supported by BBSRC and STFC.
The SWSBC receives generous financial support from CCP4, the British Crystallographic Association (BCA), and from industrial sponsors to provide an annual conference for its academic groups and representatives with an interest in all aspects of structural biology in an effort to foster collaboration and to provide support for members at an early stage in their career.
Further information can be found at: Biological Sciences - the science of the 21st Century at http://www.reading.ac.uk/biologicalsciences/