New soil test could give green light to more brownfield site redevelopment


Release Date 01 June 2011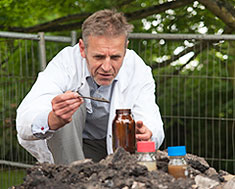 Experts from the University of Reading have developed a new method of testing soil pollution which could enable more brownfield land to be used for housing development. The model, which is already in use, will also aid the construction industry during this tough economic period.
With a rapidly increasing population, demand for housing remains high and potential building sites are a controversial subject. By more accurately replicating the body's processes when it ingests polluted soil than current tests, this new method could determine that more brownfield sites are fit for redevelopment, allowing more houses to be built in areas less damaging to the environment.
Organic pollutants are widespread in urban soils, originating from activities of the petroleum industry, pesticides, old gasworks and numerous other sources. The ingestion of polluted soil by children when playing outdoors is a key consideration for industry when undertaking risk assessments on contaminated land, such as the 2012 Olympic site.
A 2010 Government consultation estimated that perhaps 20% –30% of the removal of pollutants from contaminated land under the current planning system may be "unnecessary". This excessive clean-up work could be costing the construction industry an extra £140m –£210m per annum and maybe excluding some sites for redevelopment completely.
Current methods for assessing the risk posed by contaminated land to human health may overestimate the amount of pollutant which can be absorbed by the gut safely. This is because they use the total soil concentration rather than the amount of chemical that is released during digestion. This can result in significant additional clean-up costs for companies.
By more accurately replicating the body's processes when it ingests polluted soil Dr Chris Collins from the University of Reading's Department of Geography and Environmental Science, and his team's new model shows accurately how much pollutant is released into the digestive tract. This will give companies vastly improved data compared to current models, thus allowing them to take more informed decisions when remediating sites.
Dr Chris Collins said: "Our recently developed gut model includes the conditions of the colon which we believe is critical for organic pollutants. This allows more representative measurements to be undertaken of the pollutants released during digestion.
"The test will also help local government determine if there is genuine risk from sites which may have low levels of residual pollution, such as allotments. Currently the new test is being used by three industrial customers and a local council."
This research was funded by the Natural Environment Research Council and is published on the Environmental Science and Technology Journal's website http://pubs.acs.org/doi/abs/10.1021/es2004705
Ends
For all University of Reading media enquiries please contact James Barr, Press Officer tel. 0118 378 7115 or email j.w.barr@reading.ac.uk
Notes for Editors:
Tilston E.L., Gibson G.R., Collins C.D. 2011. Colon-Extended Physiologically Based Extraction Test (PBET) Increases Assessments of Soil-Bound PAH Bioaccessibility. Environmental Science and Technology.
The University of Reading is rated as one of the top 200 universities in the world (QS World Rankings 2010).
The University of Reading is one of the UK's top research-intensive universities. The University is ranked in the top 20 UK higher education institutions in securing research council grants worth nearly £10 million from EPSRC, ESRC, MRC, NERC, AHRC and BBSRC. In the latest Research Assessment Exercise (2008), over 87% of the University's research was deemed to be of international standing. Areas of particular research strength recognised include meteorology and climate change, typography and graphic design, archaeology, philosophy, food biosciences, construction management, real estate and planning, as well as law.