University pharmacist rewarded for patient safety research
Release Date 06 June 2011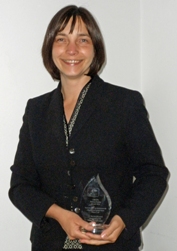 A lecturer at the University of Reading has been awarded a national safety award for her work which has led to reducing the number of patients at risk of injury through hazardous medicines management.
Dr Rachel Howard, of the Reading School of Pharmacy, received the UKCPA/Pfizer Patient Safety Award at the UK Clinical Pharmacy Association/Guild of Healthcare Pharmacists 7th Joint National Conference 2011. The award recognises innovative pharmacy practice that contributes to patient safety.
Rachel has been involved with a major clinical trial, called PINCER, that addressed medication errors in general practices to ensure patients were not given medicines that did not suit their conditions. The research team found that a pharmacist-led, IT-based intervention reduced rates of potentially hazardous medicines management more effectively than giving simple feedback about patients at risk. The project developed methods for identifying those patients using searches of GP computer systems.
"The trial has shown that the pharmacist-led treatment was more effective and there will be ongoing work to take PINCER forward and broaden the range of patients treated," said Rachel. "The idea is to check that the medications given to patients do not inadvertently cause a new set of conditions. For example, we know that beta-blockers can increase the chance of an asthma attack so they would be inappropriate for asthmatics."
The PINCER trial was led by Professor Tony Avery, Head of the Division of Primary Care, at University of Nottingham, and funded by the Department of Health as part of its Patient Safety Research Programme.
ENDS
For more information please contact Rona Cheeseman, press officer, on 0118 378 7388 or email r.cheeseman@reading.ac.uk