Festival sparks local schoolchildren's interest in Chemistry

Release Date 08 June 2011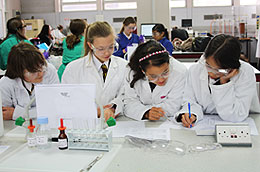 On 11th and 18th of May, over 120 budding young chemists from local schools took part in the Salters' Festival of Chemistry, hosted by the Department of Chemistry at the University of Reading.
The teams of four, made up of pupils from Years 7 and 8, were set two chemistry challenges to solve while the clock ticked down.
The first challenge involved identifying the main suspect in a murder case using chemical tests on samples taken from the crime scene and suspects. The afternoon challenge was particularly colourful, with teams given the task of preparing recipes for a range of colours, using acid, alkali and indicator solution. The days were rounded off with a demonstration lecture on "Hot and Cold" by Dr. David Nutt from the Chemistry Department.
Dr Nutt commented: "It's great to see pupils enjoying doing chemistry. They really engaged with the challenges and had great fun too. The Festivals highlight the important part that Chemistry plays in our every day lives, and hopefully encourages youngsters to study the subject in further education."
The Salters' Festivals of Chemistry are an initiative of The Salters' Institute, whose aim is to promote the appreciation of chemistry and related sciences among the young. The Festival at The University of Reading was one of a series of fifty-three festivals which took place at Universities throughout the UK and the Republic of Ireland between March and June 2011.