Aviva Chief Exec shares his thoughts on the recent credit crunch
Release Date 10 June 2011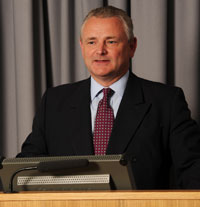 Speaking at a recent 2011 Henley Business School Keynote Lecture, Andrew Moss, Group Chief Executive Officer, Aviva plc, shared his thoughts on the four key factors that were crucial in navigating a financial services organisation through the financial crisis. They were:
The importance of have a clear story to tell
Having the courage of your convictions
Recognising the importance of the individual
Being flexible enough to change as the environment around you changes.
The talk, part of the 2011 Henley Business School Keynote Lecture Series kindly sponsored by Accenture UK, focussed on Andrew's experiences of steering Aviva through the credit crunch and subsequent global recession. He provided the audience with an insight into the challenges faced by business and the leadership strategy adopted to ensure success.
Henley's Keynote Lecture Series sees contemporary leaders from a range of disciplines share their knowledge and insight with an audience of senior executives, who want to explore the challenges facing today's organisations and their leaders.
During 'Then and Now: Navigating the Financial Crisis', Andrew outlined his thoughts on what the future holds, the key challenges and the opportunities business leaders face.
"Going ahead with the Aviva brand change in the midst of the financial crisis was seen by some as a fairly brave thing to do. What we were trying to do with our people was not just change the name, but actually change the way they thought about the company and what we do for our customers."
For more details please visit the Henley Business School Keynote Lecture Series website
Ends
all media enquiries please contact James Barr, University of Reading Press Officer on 0118 378 7115 or by email on j.w.barr@reading.ac.uk
Notes for editors:
About Henley Business School
Founded in 1945, by business for business, Henley was the first business school in the UK and is one of the oldest and most respected schools in Europe. Henley's impressive full-service portfolio extends from undergraduate and postgraduate degree programmes postgraduate degree programmes to a world-renowned executive education offering, from cutting-edge research spanning a uniquely broad range of fields to specialist consultancy services. One of the very few business schools worldwide to hold triple-accredited status from the major UK, European and US awarding bodies (AMBA, EQUIS, AACSB), Henley is also the world's third largest provider of MBA education. www.henley.reading.ac.uk/
About Aviva
Aviva is the world's sixth largest* insurance group, serving over 53 million customers across Europe, North America and Asia Pacific
Aviva's main business activities are long-term savings, fund management and general insurance, with worldwide total sales of £47.1 billion and funds under management of £402 billion at 31 December 2010
We are the largest insurance services provider in the UK and one of the leading providers of life and pensions products in Europe
The Aviva media centre at

www.aviva.com/media

includes images, company and product information and a news release archive
For broadcast-standard video, please visit

http://www.aviva.com/media/video/

.
Follow us on twitter:

www.twitter.com/avivaplc
*based on gross worldwide premiums at 31 December 2009Accenture has embarked on a programme to recognise and understand high-performance business as it operates in an industry specific context. In doing so Accenture seeks to identify and lay the foundations of disciplines companies can use to become high-performance businesses today and in the future. Our industry expertise and insight, our ability to help drive business processes, and our access to leading-edge technologies, produce results that set the course for a high-performance future.
For more information about our research and thought leadership, please visit www.accenture.com/countries/uk/ research_and_insights
Accenture is a global management consulting, technology services and outsourcing company. Combining unparalleled experience, comprehensive capabilities across all industries and business functions, and extensive research on the world's most successful companies, Accenture collaborates with clients to help them become high performance businesses and governments. With more than 181,000 people serving clients in over 120 countries, the company generated net revenues of US$21.58 billion for the fiscal year ended August 31, 2009.