University of Reading appoints Acting Vice-Chancellor
Release Date 14 June 2011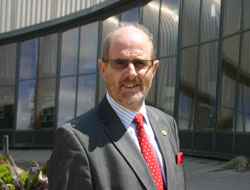 The University of Reading has announced that Professor Tony Downes has been appointed Acting Vice-Chancellor of the University from 1 August 2011.
Professor Downes will take up the reins from Professor Gordon Marshall who leaves the University after almost nine years to take up the post of Director of the Leverhulme Trust.
Professor Downes has, for the past four years, held the post of Deputy Vice-Chancellor at the University of Reading, with responsibility for planning and operational issues throughout the University. This has included the successful merger negotiations to create the Henley Business School, now one of Europe's leading full-service business schools and the exploration of opportunities for the University to establish an overseas campus.
Professor Downes began his career as a Lecturer in Law at the University of Durham and Visiting Professor at the University of Iowa before joining the University of Reading as Reader in European Community Law in 1990. Subsequently, he has held a number of senior positions within the university, including Dean of Faculty and Pro-Vice Chancellor.
Professor Downes said: "I am honoured to take up the position as Acting Vice-Chancellor of one of the world's leading universities. Gordon has steered the University through a challenging time in higher education and leaves Reading with its reputation further enhanced and with an assured future. I know I am not alone in saying I shall miss his steady presence and sound judgement. The next year will be a testing and pivotal time in higher education, and it will be important to make sure the University does everything necessary to maintain and enhance its position."
The University of Reading is a research -intensive university with nearly 90% of its research rated as being of international standing¹. It is ranked as one of the top 200 world universities² and is consistently in the top quartile with regard to student satisfaction ratings³.
The University is seeking to make a permanent appointment to the position of Vice-Chancellor and Professor Downes will continue to act as Vice-Chancellor until that appointment has been made.
ENDS
Further information from Alex Brannen, Director of Communications, on 0118 378 8005
Notes to editors:
A picture of Professor Downes is available.
¹ Research Assessment Exercise 2008
² QS World University Rankings 2010 - 185th
³ 88% of Reading students were satisfied with their course - National Student Survey 2010