New business community hub opens at the University of Reading

Release Date 14 June 2011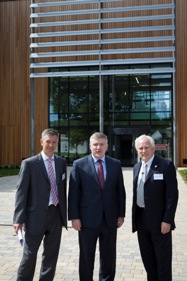 Photos of the event and the Enterprise Centre on Flickr >>>
A new community of innovation and technology-based companies based at the University of Reading was today (14 June 2011) opened by the Minister of State for Business and Enterprise, Mark Prisk MP.
Reading Enterprise Centre has been developed as a purpose-built business facility based on the University's Whiteknights campus in Reading. Designed as high-quality flexible space, it provides innovative and growth-orientated businesses with space to develop and grow with direct access to the University's research and enterprise expertise and talent pool of staff, students and graduates.
The new facility builds on the University's excellent track record in working with business and specifically in developing knowledge transfer. Through existing facilities in the form of the University's successful Science and Technology Centre on the Whiteknights campus and the new Enterprise Centre, the University of Reading is now home to around 50 innovative or technology-based businesses.
The University also has planning permission for phase one of its ambitious plans for a Science and Innovation Park in the area, which will provide space for successful incubation businesses to expand.
Business and Enterprise Minister Mark Prisk said: "I am delighted to open the Reading Enterprise Centre. This facility will bring together high-growth businesses with University research and talent, providing a huge boost to the local business community.
"Innovative, technology-based businesses are vital for creating jobs and driving our economy forward, and this facility will help these companies to grow and expand."
Businesses already based in the new Reading Enterprise Centre include Lein Diagnostics, an innovative research company pioneering pain free measurements for the healthcare market. They are developing a non-invasive meter with which people with diabetes can measure their glucose levels; Mediasift, a technology startup which builds social media tools and platforms which are leading the expansion of the real time social web. They were voted one of the Top 10 European Startups to watch in 2011; SocialNetit.com, a social media specialist training and consultancy; and Assuria, an IT security software developer which provides automated compliance and information assurance solutions to major organisations in more than 60 countries.
David Gillham, Director of Research and Enterprise at the University of Reading, said: "The University boasts real expertise in knowledge transfer and we work hard with business to provide flexible facilities, develop talented people for business needs and create access to the results of our research. Reading Enterprise Centre will significantly grow the University's ability to develop a cluster of businesses located at the University and will be the bridge for small start-up businesses while they grow, before ultimately moving onto larger premises in the proposed Science and Innovation Park."
The opening of the new facility takes place during Universities Week 2011, which aims to foster greater public understanding of the impact which universities in the UK have on the individual, the local community, business and the future of the UK.
Reading Enterprise Centre offers 55,000 sq. ft. of high quality space. Flexibility in the space means the Centre can accommodate a range of company sizes. The building has been part fitted out to enable occupation of smaller suites from 100 - 1,000 sq ft (9.3 - 93 sq m) and larger bespoke floor plates are available from 1,000 - 10,000 sq ft (93 - 930 sq m). Amenities in the new Centre include full reception services; telephone system with dedicated number and voicemail system; broadband Internet access available in every office as standard; meeting rooms; on-site security, central atrium with meeting space, networking area and coffee shop, on-site car parking, cycle sheds and showers.
Reading Enterprise Centre is already 50% let. Business enquiries to David Gillham, Director of Research and Enterprise at the University on 0118 378 8978, or Lambert Smith Hampton, on 0118 959 8855.
More information at http://www.readingenterprisecentre.com
ENDS
Further media information from Alex Brannen, University of Reading, on 0118 378 8005 / 07834 006243.