University says thank you to its volunteers
Release Date 16 June 2011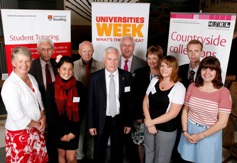 View photos of the event on Flickr >>>
The achievements of local volunteers and students were celebrated this week at a special event at the University of Reading's Museum of English Rural Life (MERL).
The evening brought together three important areas of the University: the Reading Experience and Development (RED) Award, the Student Tutoring Scheme and the contribution made by local people to MERL.
Each of these schemes provides support and opportunities for students and residents to get involved in projects and activities outside their normal work or studies.
The RED Award was launched last October to reward students for taking part in a variety of extra-curricular activities that develop their employability skills. Over 500 students from across all disciplines and all levels of study have signed up so far and more than 100 students have completed the award.
The University's Student Tutoring programme provides opportunities for students to work in schools, alongside teachers, directly supporting and helping children with their studies. This year, 186 students have successfully completed the scheme, including the 4000th student to pass since the programme began 20 years ago.
Jenny Brambley, a final year student of Biomedical Sciences, is one of this year's volunteers. She began visiting Phoenix College, a school for boys with emotional, behavioural and social disorders, last October helping with science classes.
She said: "I found it challenging, enlightening and rewarding to work in this rather special environment. I had a fantastic time tutoring, and I will definitely look in to doing more in the future."
Phoenix College Principal, Mrs Ekie Lansdown-Bridge, said "It is a very productive collaboration which gives the school extra support and introduces the students to a sector of education that is often overlooked."
As well as celebrating students, the evening marked the significant contribution of the many residents who offer their time to volunteer within the University. The University Museums, Archives and Special Collections Service, of which MERL is part, relies greatly on the support offered by a group of loyal volunteers from outside the University.
The event was hosted by the University Vice Chancellor, Professor Gordon Marshall. He said: "I am extremely proud to celebrate the achievements of our students and local volunteers who have made a personal contribution within our institution and our wider community over the past year.
"The event falls as part of Universities Week, a national campaign to raise the profile of all that higher education offers to society at large. With so many students, staff and guests joined together this evening - I have no doubt of the impact of the University of Reading in this regard."
ENDS
For more information please contact Rona Cheeseman in the press office on 0118 378 7388 or email r.cheeseman@reading.ac.uk