Reading graduate employability best for a decade
Release Date 17 June 2011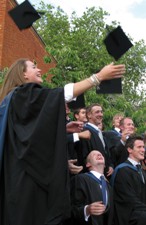 The latest survey of the destination of the University of Reading's 2010 graduates shows its best result for a decade in graduates who reported they were in graduate level work and/or study. There was also a significant fall in unemployment rates.
The Destination of Leavers Survey 2010 (DLHE) asked graduates from 2010 what they were doing six months after graduation. The percentage of Reading 2010 graduates who reported they were in graduate level work and/or study has risen by 3.3% from 2009 to almost 70%.
The rating is the highest Reading has achieved since the establishment of DLHE data in 2002/3.
The unemployment rate for Reading graduates has fallen by 2% to 6.6%, despite the economic downturn. Approximately 92% of graduates describe themselves as being in work, voluntary or unpaid work or further study. Of those in work, 66% are in graduate jobs, as defined by the Institute of Employment Research, based on an analysis of the Higher Education Standards Agency's (HESA) Standard Occupation Classification (SOCDLHE). Over 80% of Reading graduates replied to the survey.
Schools that performed particularly well in terms of graduate employability include Pharmacy (100%), Food and Nutritional Sciences (100%), Real Estate and Planning (97%), Meteorology (89%), Computer Science (88%), Environmental Science (85%), Law (83%), Mathematics (81%), Construction Management (81%) and Agriculture & Food Economics (80%).
Professor Rob Robson, Pro-Vice-Chancellor for Teaching and Learning, said: "Staff across the University have worked extremely hard to ensure our students are as well prepared as possible to pursue their future plans and dreams after graduation. It is very gratifying to see, in difficult economic times, that our graduates are in demand in the workplace and in the main are obtaining graduate positions.
"In addition, we continue to provide excellent support for the ambitions of a significant proportion of our graduates who choose to go on to further study here or elsewhere."
Summaries of recent Reading graduate career prospects, by department, at http://www.reading.ac.uk/careers/development/dlhe/reports/
ENDS
For more information please contact Rona Cheeseman in the press office on 0118 378 7388 or email r.cheeseman@reading.ac.uk